For over a century after Christmas trees became popular in the U.S., electricity as we know it didn't exist. Decoration with holiday candles was prevalent during the era—having a "merry Christmas" often meant not burning down the house. The movement toward widespread electric Christmastime lighting began gradually in 1879 and gained momentum alongside nationwide electrification, improving technologies and lowering prices. Here, we offer a rough timeline of the history of Christmas lighting in the United States, tracing a path from candlelit trees to over-the-top displays made possible by modern technologies.
1747

–

The History of Christmas Lighting in the U.S. Begins with a "Lichstock"
Dutch settlers in Pennsylvania introduce the forerunner of the modern Christmas tree in the U.S., the "lichstock" (meaning "light stick"). The settlers decorate this wooden, pyramid-shaped ornament with fruit, various greens and lighted candles.
1832

– Setting a Christmas Tradition Alight
Harvard Professor Charles Follen decorates an evergreen Christmas tree with candles. This is one of the first recorded examples of candles used for tree decoration in the United States.
1856 – A Presidential Contribution to the History of Christmas Lighting
U.S. President Franklin Pierce helps launch the tradition of candlelit Christmas trees by raising the country's first publicly lighted tree on the White House lawn.
1878

– The Christmas Candleholder Debuts
Frederick Artz invents a clip-on Christmas tree candleholder designed to keep lighted candles upright and attached. His invention helps make candlelit trees safer, but far from nonhazardous. The holder sells well, but people still light their Christmas trees for only short periods, never leaving them unattended and keeping water and sand buckets nearby for emergencies.
1879-1880 – Edison Flicks the Switch on Holiday Lighting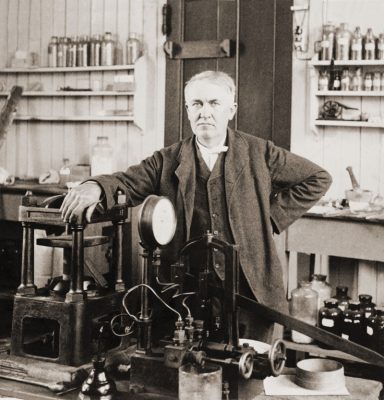 In 1879, Thomas Edison creates an outdoor light display around his laboratory in Menlo Park, N.J. to celebrate New Year's Eve. For Christmas 1880, the legendary inventor develops another outdoor light display. These displays are the first instances of electric lighting used for holiday celebration.
1882 – Lighting the First Electrified Christmas Tree
Edward Johnson, vice president of Edison's Electric Light Company, pioneers the electric-lit Christmas tree by stringing 80 specially made electric bulbs on a single wire and wrapping them around a tree. Those lights, tinted in shades of red, white and blue, generate widespread public interest; however, public distrust of electricity and expense make electric-lit Christmas trees rare for many years to come.
1895 – Another

 Presidential Contribution to the History of Christmas Lighting
U.S. President Grover Cleveland helps makes electric holiday lights more acceptable across the country by lighting the White House Christmas tree with strands of electric lights.
1900 – Modern Christmastime Lighting Takes Shape
Retail stores around the country begin stringing holiday lights in windows and outside storefronts as part of Christmastime decorations.
1903 – Christmastime Lighting Goes on Sale to the Masses
General Electric Company begins selling decorative Christmas light kits, marking the beginning of large-scale public adoption of electric Christmas lights.
1908 – Christmas Candle Burn Out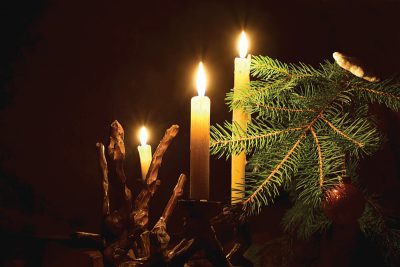 A large group of insurance companies agrees to add an exclusion to polices, barring coverage for any Christmas tree fire caused by candles. This quickly sets the standard across the industry.
1920 – An Electrified Nation Shines Its Light at Christmas
The first large-scale, outdoor electric Christmas lights display is staged for the public in Altadena, Calif. Throughout the 1920s, lighting technology improves and comes down in price enough that nearly everyone across the country with electricity can afford Christmas lights.
1925 – Christmastime Lighting Goes Big Business 
Fifteen U.S. Christmas light manufacturers join forces to create the National Outfit Manufacturer's Association (NOMA). NOMA would dominate the U.S. Christmas lights market until the 1960s.
1927 – A Gateway to Bigger Lighting Displays
GE introduces light strings with parallel wiring. This technology, which enables lights on the same string to continue burning even if one light blows, will prove critical in helping create larger and larger light displays.
1955 – Aluminum Christmas Trees Kill the Lights
The aluminum Christmas tree makes its U.S. debut. These trees can't be decorated with lights due to the danger of mixing electricity and aluminum, which can lead to shock and even electrocution. The popularity of these trees over the next 10-plus years causes disruption in the U.S. Christmas lights industry, eventually helping force NOMA into bankruptcy.
1966 – A New Kind of Christmas Light Debuts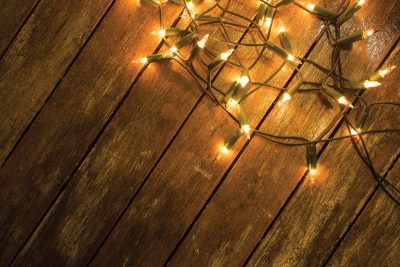 GE introduces its foreign-made Merry Midget™ lights.
1970s-1990s – Mini-Lights Change the Face of Christmastime Lighting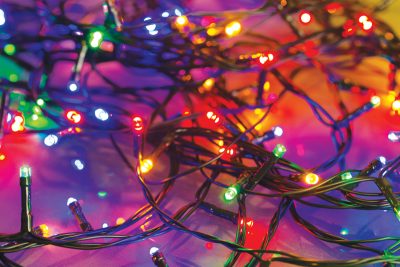 In response to Merry Midget popularity, other manufacturers launch the "mini-light." Due to their low cost and power consumption, mini-lights become a craze. Across the U.S., these lights form the foundation not only for Christmas tree decoration, but also for huge outdoor displays that grow bigger each season.
1998 to present – An Energy Efficient Christmas Future
LED lighting transforms Christmastime lighting. This technology applies electricity to a semiconductor to create light, a process known as electroluminescence. LED Christmas lights produce far less heat, use substantially less energy and last much longer than incandescent lights.