Tucked away on the banks of the Guadalupe River at the Lazy U Ranch in Seguin is a small hand-crafted building that couldn't be more than 200 square feet. But despite its small size, it delivers a powerful message as the only private, living war memorial in the U.S. honoring veterans and civilians.
"The SS American Memorial was built to inspire the person walking in to want to know more about our country's history, the sacrifices that have been made by our veterans and how we got to where we are today—good, bad or indifferent," says Navy veteran Craig Russell, one of the prime movers behind the memorial.
It all started in 1998 when Russell sat at a friend's computer and typed in USS Tunny, the name of the submarine he served on in the 1980s. It was still early days for the Internet, so he was surprised to see the names of former shipmates pop up. He took that opportunity to reconnect with his former COB (Chief of the Boat) David Follo, who Russell says was deeply respected for his knowledge and considered to be the mentor of all mentors by those who served under him.
Two years later, encouraged by the COB, Russell brought about 30 of his former shipmates together for a reunion at his family's ranch, the Lazy U. From there, the reunion evolved from a small annual event into a four-day shindig every two years for more than 500 veterans, their families and civilian friends.
Over time the party area also evolved to include a pavilion, outdoor kitchen and other accommodations—making it the perfect place for R&R. So in 2010, when Russell heard the Intrepid Center at Fort Sam Houston needed a place for wounded warriors to go for some quiet rehabilitation, he offered the ranch for their use. Even after the number of newly wounded warriors decreased, the ranch continued to play host to other military units as a place to kick back and reconnect.
A Memorial is Born
Back to the COB, David Follo. Although Russell's reunion event was naturally patriotic based on his friends' common experience as veterans and Americans, he says it took on a new dimension in 2012. That's when they learned their COB was terminally ill and this would be his last reunion.
The shipmates, wanting to do a special tribute, reached out to the veteran community for a picture of the young COB. Thanks to the Internet, someone forwarded a photo of him at age 19 receiving an award from his first executive officer, Ed Ettner (SUB CDR, Ret.). The string of contacts also included Ettner's email address.
"I sent an email asking Mr. Ettner—are you still with us? Within minutes we received a reply," Russell says. "He was 91 at the time, and we asked him if he would attend our tribute through a telephone broadcast."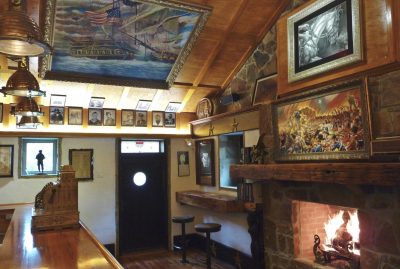 Russell says that year's reunion shindig was transformational for his family. "Can you imagine them (Follo and Ettner) hearing each other's voices after 55 years? During the tribute, Ettner spoke for an hour about Follo, the history of WWII and the changes he has seen over the years in American culture," Russell remembers.
"Our audience of veterans and civilians were fascinated. One of the civilians looked at me
and said his life was changed by that speech."
That was when the memorial was born—although Russell didn't yet know it.
Later that day a sailor asked Russell what he was planning to do with the little building that sat nearby. It was just walls and a basement—all hand-built, but still unfinished. It was an experiment in energy-efficient construction that Russell's WWII Navy veteran father-in-law had been working on through the years in his spare time.
"That's when I decided to add windows, a door and air conditioning so it could be a place where the wounded warriors could cool off. But, that's as far as my vision went," Russell says.
A Navy friend gave Russell $20,000 on the spot for him to finish the building by the next reunion. Russell met the challenge. As he says, the following months took on a life of their own with help from his shipmates, the wounded warriors and civilian friends. They donated hundreds of hours of time and more than $110,000, which the Russell family matched, to finish the building.
From the hand-sanded wood floors to the paintings above, the memorial had truly become a labor of love—representing old-school values and a reminder of what it means to be an American.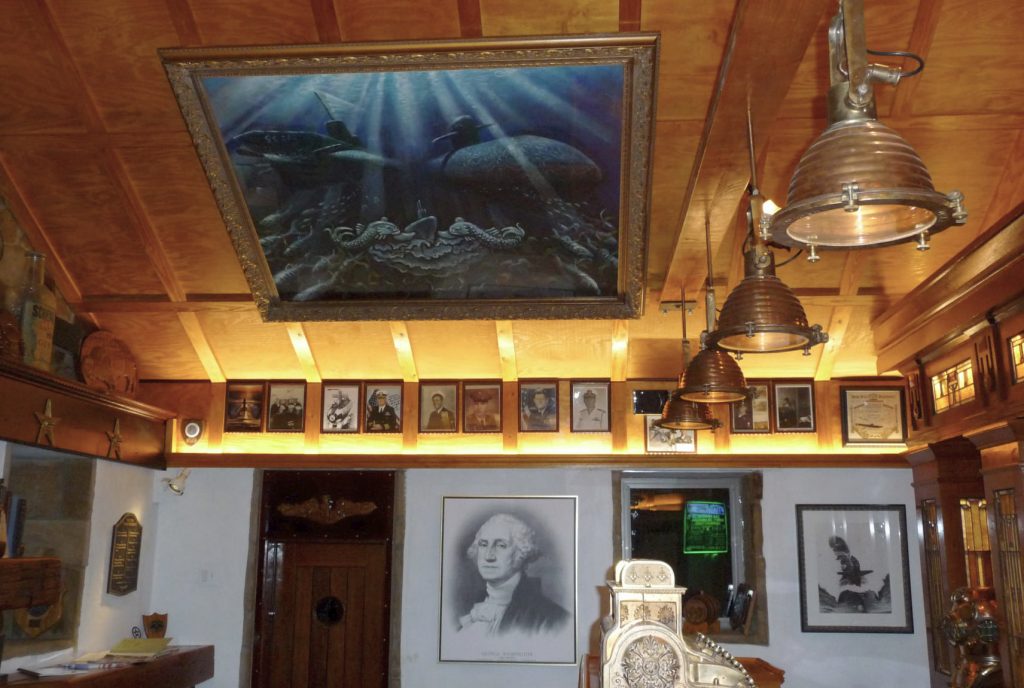 Russell says they have since been overwhelmed by the amount of support they've received in terms of donations for the memorial and to help veterans in need. They formed a nonprofit foundation in March 2016 as a way to ensure the memorial and a portion of the Lazy U Ranch would forever be available to future generations.
"We wanted all of this to be permanent," Russell explains. "And, now it will
be permanent."
For more information about the SS American Memorial, visit www.ssamemorial.com.
If you'd like to reconnect with veterans and friends this coming Veteran's Day (November 11), visit
the memorial's Facebook page to find out about their monthly Freedom Fest event. Every second Friday of the month, the ranch hosts an informal gathering with live music and open mic jam session from 7–11 p.m. Proceeds are used to support wounded warriors and the memorial.
Img caption
The SS American Memorial in Seguin is the only private, living war memorial in the U.S. honoring veterans and civilians. The surrounding grounds are available free of charge to nonprofit organizations wanting a place to reconnect; but first they must tour the memorial, learn how it came about and what it represents. Over 2,200 visitors, including warriors and active
duty trainees, visited the grounds for R&R in 2015.