Much has changed since GVEC's initial years as an electricity provider to South Central Texas, as is revealed in these two photos. Above, some of the Cooperative's earliest members and leaders participate in one of GVEC's initial public meetings. Below, current and longtime GVEC Board President Lewis Borgfeld greets members during a public gathering of the membership.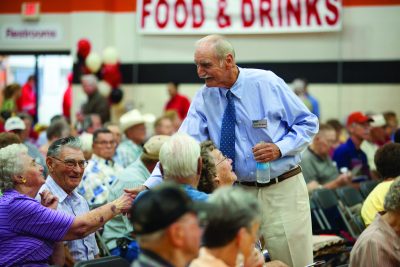 Gonzales, Texas–December 3, 2018 – From darkness to light, from rotary-phones to dialup internet, from SmartHub to SunHub Community Solar to data at the speed of light and electrified sunlight, the Guadalupe Valley Electric Cooperative (GVEC) has reached the milestone of 80 years of service.
On Dec. 2, 1938, at a meeting in Cost, Texas, a group of farmers from around the Guadalupe Valley signed GVEC's Articles of Incorporation. In the years to follow, the Cooperative would turn on the lights for rural families throughout the region, putting all the modern conveniences of electrification within reach. In the process, GVEC formed close ties to the communities and people it served, creating a mutual, close-knit relationship of modernization, success and growth.
According to GVEC Executive Manager of Business and Brand Development Tammy Thompson, GVEC's growth has come through a "progressive, 80-year heritage of building diverse relationships."
"As a cooperative," Thompson said, "our ultimate purpose is to empower the people and communities we serve to live a better quality of life. Without mutually beneficial relationships with our members, local leaders, businesses, education, and other area organizations, we would not have the knowledge that helps us continuously challenge ourselves and redefine the level of value GVEC can deliver."
In 2018, GVEC's relationships are stronger than ever, Thompson added, and continue to inspire the Cooperative to branch beyond its roots as an electricity provider. Through its GVEC Home business, for example, the Cooperative now offers AC/heating sales and services, Solar sales and services, and Electrician services—all of which are critical to an efficient and comfortable home. The Cooperative has grown geographically, too, currently encompassing 3,500 square miles of service territory and serving over 80,000 consumers residing in 13 South Central Texas Counties.
The Cooperative's internet service represents another expanded option intended to benefit local communities. Starting with dial-up access in 1998, GVEC.net has since expanded to offer wireless internet access and, more recently, fiber access. General Manager Darren Schauer has characterized GVEC Fiber Internet as not merely a "game changer," but as a "life changer"—a product that will help transform daily life for the thousands of local residents and businesses who use it.
"The internet of things era is here and growing," Schauer said. "It is transforming the way people live, the way they communicate, do business and relate to each other and to the world around them. We anticipate the impact will be very similar to the impact that delivery of electricity had on GVEC's first members eight decades ago. GVEC Fiber is at the forefront of this revolution. True to our history, we choose to be the ones to deliver this technology to the rural areas we serve when others will not."
According to Schauer, as long as the Cooperative remains focused on people, community and value, there's no reason to think it won't endure to celebrate its 160th anniversary some eight decades from now. Schauer added, "Our pioneering leaders built a strong foundation of working hard to make a difference through our cooperative services. Over the years, our traditional core values combined with progressive new strategies have helped GVEC develop into a versatile organization equipped to evolve with our customers and their life challenges. On behalf of our Board of Directors and employees, we are extremely privileged to be a provider, partner and resource of much more than electricity. Thank you for welcoming our services into your home, work and communities for the past eighty years. We look forward to serving the people and communities of the Guadalupe Valley for many more generations to come."
GVEC is a progressive cooperative specializing in the delivery of products and services that empower the people and communities in the Guadalupe Valley. Offering dependable electricity, high-speed Internet, reliable AC/Heating sales and service, solar options, as well as electrician services, GVEC serves over 90,000 consumers through five customer service locations in Cuero, Gonzales, La Vernia, Schertz, and Seguin.