A GVEC Solar Panel System Exceeds Expectations
When Amanda and Eric Hutchinson were searching to buy a house at the end of 2017, they were certain of one specific detail they wanted for their future home—it had to be in GVEC's service territory. The couple was so satisfied with the rates and service GVEC provided at the rental property they lived in at the time, they wanted to ensure GVEC remained their electricity provider. Not only did their satisfaction continue when they found their home in a La Vernia subdivision, their expectations were exceeded when they decided to purchase a GVEC solar panel system!
First Home on the Block with Solar
Within the first year of settling into their new space, Eric began looking into solar power options. "My husband was very big on going green," said Amanda, when asked why they decided solar power was right for them. Noticing information on a GVEC Home® flyer, the Hutchinson family decided to take the leap into renewable energy and soon laid claim to owning the first home with solar power within La Vernia city limits.
Solar Power Delivers Double Savings
In addition to receiving an excellent offer on their installation, they were able to take advantage of GVEC's on-bill financing for qualifying members. Installing a GVEC solar panel system also qualified the couple for a federal solar tax credit on their 2018 filing, but the savings don't end there. Amanda estimates her family now saves approximately $80 in energy per month, between solar sell back and the solar power her home uses during the day, after having the 16-panel system installed on their 1,600 square foot home.
Quick, Professional, High Quality Solar Installation
Amanda was also happy with how fast and easy the installation of their GVEC solar panel system was. "It was great. The guys were super knowledgeable," she said of the install. GVEC Home took care of obtaining solar permits they discovered were needed, and she felt they also took care in making sure she and Eric understood the entire process, including the process of solar sell back. Once the technicians arrived and began working, Amanda left for a few hours. By happenstance, she had a job interview with GVEC that day. When she came home, they had completed the job and were packing up their equipment.
The Solar Sell Back Credit
Aside from the monthly savings on their bill, another difference Amanda has noticed is how the statements look. Instead of showing only the kWh (kilowatt-hour) usage in red, as a normal GVEC bill does, she also sees her credited renewable kWh shown in green. This credit reflects the system's solar sell back amount–energy fed back onto the electric grid when Amanda's home was not using as much electricity as her GVEC solar panel system was producing. GVEC buys back this excess energy and credits her bill. After the generation and transmission and distribution charges, a line item for the solar sell back credit can easily be viewed. Seeing her savings is one of Amanda's favorite benefits of using solar energy.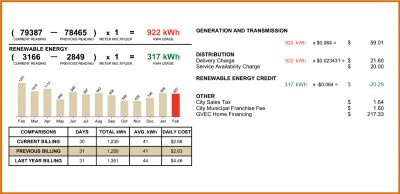 Taking Greater Responsibility of Energy Use
When asked what the biggest benefit to her household has been since going solar, Amanda said it has made her family take more responsibility for their electricity usage. "I changed my habits of how I do things at home," she said. "I wash clothes and run the dishwasher during the day, so I'm hitting the panels to use what they are producing." Amanda says she has also become more conscious of monitoring her energy usage on SmartHub®, while her husband monitors the renewable energy their system produces from a smartphone app. In fact, she and Eric feel so good about their clean energy consumption, they plan to add four more panels to their GVEC solar panel system next year!
Interested in a GVEC Solar Panel System?
If you're wondering if going solar is right for your home, or to find more information about GVEC Solar services, give us a call at 866.684.2359, or visit gvecSOLARservice.com.