The Causes of Power Outages
As we often mention in The GVEC Review, when it comes to your energy bill, weather matters. Weather also plays a significant role in power outages, with lightning strikes frequently causing the majority of outages in any given year.
While weather is the leading cause of outages, it's not the only cause. Vehicles crashing into utility poles can also lead to outages, as can tree limbs coming into contact with power lines. We also routinely deal with outages caused by snakes, birds, squirrels and other assorted critters coming into contact with electrical equipment.
Built-In Prevention for Power Outages
At GVEC, we've designed our electrical system to be resilient, adaptable and upgradable. We've integrated several measures into the system to help prevent power outages; but even so, no grid is wholly immune from occasional disruptions in service. Outages, just like inclement weather, are a simple reality affecting the operation of any electric system.
Power Outages & Our Commitment to Members
We want all Cooperative members to know that whenever an outage does occur, we take our responsibility of restoring power seriously and work hard to get power flowing again as quickly and as safely as possible.
How Members Can Help During Power Outages
As a GVEC member, there are steps you can take to help us get power restored and to help minimize the impact of the outage itself: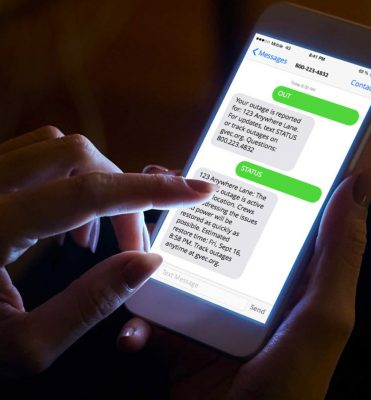 Report the outage as quickly as possible:
Use the GVEC SmartHub app to quickly and conveniently inform us of the problem.
Use GVEC TextPower to text OUT to 800.223.4832 when an outage occurs.
Call us directly at 800.223.4832 to speak to a representative or use our automated system to report your outage directly to our Control Center.
Switch off any appliances running when the outage occurs—especially your AC/heating system. Doing so helps minimize the possibility of damage to the appliance and to your home's electrical system when power comes back on.
If you use lanterns or a fuel-burning cook stove or heater, it's important to prevent the accumulation of harmful fumes by keeping the area properly ventilated.
Leave a single light switched on so you know immediately when power begins flowing again.
Power Outages Are Anti-Social
We end with a reminder of our least preferred method for reporting a power outage: social media. Because we don't monitor our social media accounts 24/7, we strongly advise against using Facebook or Twitter to report an outage. Instead, please use our SmartHub app, TextPower service or call us directly at 800.223.4832.
If you're out, we're out! Rest assured, that when outages do occur—day or night—GVEC will work to restore power as quickly and as safely possible.