Harvey wasn't just any storm. Making landfall at 2 a.m. on August 25 at Rockport, it was the first hurricane to strike Texas since Ike in 2005. By the time Hurricane Harvey hit, it was a Category 4 storm.
While this catastrophic weather event may have been surprising in how quickly it went from a tropical depression to a hurricane, GVEC was more than prepared. Just months before, the Co-op underwent its annual emergency operations mock drill to ensure everyone would be ready for The Big One —the hurricane everyone expects, but hopes will never come.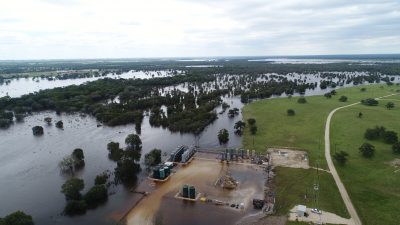 Only this year, it came. As soon as Harvey headed our way, GVEC put its emergency operations plan into place. It included such things as: getting the right number of crews in place to restore power and move debris; evaluating the damage the electric system might sustain; and bringing in poles, wire and other materials beforehand for anticipated repairs. Knowing that GVEC offices would become a temporary home-away-from-home for some employees, food and cots were also brought in.
"Looking back, I cannot say enough about the fortitude and resiliency of our members, employees and assisting crews in weathering this storm," says General Manager and CEO Darren Schauer.
Harvey entered our service area very early Saturday morning in Goliad County and by mid-afternoon caused 17,000 members to lose power across our 3,500-square-mile service area.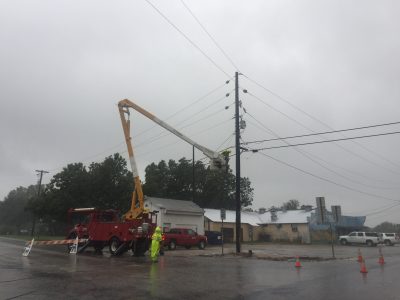 "We were faced with high winds and rain, extensive power line and road damage and flooding. But, GVEC was prepared with emergency plans, backup resources and employees committed to working around the clock until power was restored for our members," Schauer says.
Within the first 48 hours, the lights were back on for the majority of members who lost power as GVEC crews were out working while the storm was still raging. They only stopped when conditions compromised their safety.
As it turned out, the rain and winds continued three of the five days the storm was around. Outages resulted in upwards of 6,000 calls when the storm was at its peak. To ensure members would be taken care of , customer service representatives, like all GVEC teams, worked longer-than-normal shifts for 'round-the-clock coverage. Others stayed focused on GVEC systems and the restoration process. And still others—employees who were off duty—were there to support those who were on duty by helping in any way they could, from making meals to washing uniforms. It was the cooperative way, in action, and at its very best.
Behind the Scenes Planning, Communications
While line crews and customer service representatives served as the face of GVEC, what members didn't see was what took place once crews were called in for the night. From sundown to sunrise, managers and staff overseeing restoration operations continued to work. They used this small window of time to analyze large amounts of data, from weather reports and roadway stats to electric system analytics, in order to formulate the next day's strategies for improving restoration efforts while ensuring the most efficient use of Coop resources. Twice-a-day briefings kept every employee at the Coop informed and their role in not just meeting, but exceeding members' expectations.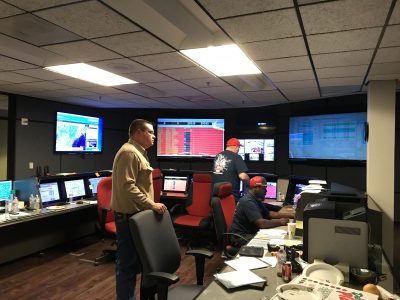 "We were continually evaluating the damage to our system and the length of time we anticipated restoration efforts would take. We knew a portion of the outages would exceed 24 hours, which meant we'd also have to make a decision about the safety of our personnel," explains Sean Alvarez, COO. "Since safety is foremost, the flooding conditions, high winds, significant damage, downed wire and poles, and the need for adequate light to make repairs led to the decision that linemen would work from daylight to dark for safety reasons."
"Being without power was frustrating—we know that," Alvarez continues. "But, members were patient and we appreciated their willingness to understand what we were dealing with."
Mike Absher, Senior Executive Manager, says Harvey was definitely a force to be dealt with. He has been with the Co-op for more than 38 years—nearly half of the Co-op's existence.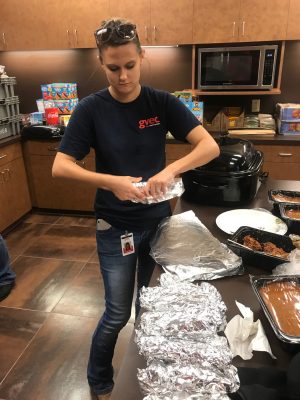 "This was by far the worst catastrophic event I've ever been through at the Co-op," Absher says. "We've had ice conditions that lasted five or six days, but those didn't compare considering the torrential rains, winds and number of outages that blanketed the system. Now that it's past, I can say GVEC worked like a well-oiled machine in the way that everyone did their part, whether it was answering the phones, the restoration process, scheduling crews, preparing food and accommodations for the crews or making sure we had fuel and materials—we virtually had every department and area of GVEC involved in some form or fashion. We had 325 employees on call and available to help where needed."
GVEC worked like a well-oiled machine in the way everyone did their part…
Bobby Christmas, who oversees multiple areas including compliance, safety and transportation as a Senior Executive Manager, agrees. "This was without a doubt a true measure of what it means to be a team and serve the Cooperative members and our customers. I've never seen anything like it. We gelled from the planning stage to the execution of getting everyone out there. From the line crews and IT folks to the people who did all the little things behind the scenes—it all made a difference. Our job is truly one where we need to go above and beyond what is expected of us, especially in the worst of times."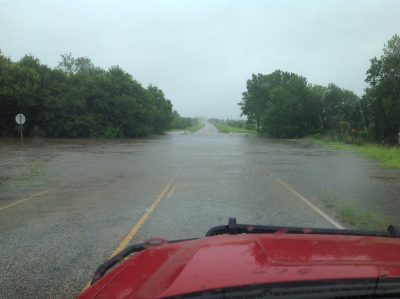 After five total days of restoration efforts, all but 21 outages were restored. Those last few were restored two days later, once flood waters receded and crews were able to reach the electric equipment.
"Now that this storm has passed, and the Co-op and its members have faced Harvey head on, this experience has served to further strengthen the bonds that tie our communities together," says Schauer. "I can only hope that our neighbors across Texas, who have even greater issues to deal with, will fully recover from this unprecedented disaster."
One Company, One Team
As they say, every dark cloud has a silver lining. Hurricane Harvey was certainly a dark cloud and the silver lining was the opportunity for GVEC employees and members to truly understand the meaning of being one company. Whether they worked for GVEC, GVEC Home or GVEC.net, employees realized it didn't matter what their usual jobs were as they worked together to restore members' electric power and Internet service.
Hurricane Harvey's wind resulted in bent masts and other damage, taking down Internet service for about 500 customers.

Senior Executive Manager Ceason Barnick
At first, when the primary focus was on the restoration of power, everyone who could, pitched in to get the outages resolved. Employees from areas such as field services and operations may not have had the same skills as the linemen, but they could serve as helpers. Once power was restored, the roles were reversed as linemen helped GVEC.net crews.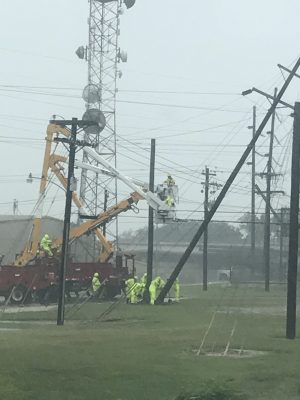 "Hurricane Harvey's wind resulted in bent masts and other damage, taking down Internet service for about 500 customers," says Senior Executive Manager Ceason Barnick who oversees GVEC.net and Information Services. "To get ahead of this, we doubled our GVEC.net crews by enlisting the help of linemen once restoration of the electric system was completed."
To make repairs speedier, the linemen installed radios and raised masts that had been damaged by the wind. They were followed by GVEC.net crews, who did the inside work of configuring the system, reducing the time customers needed to be at home.
"It was awesome to see the different groups work together," Barnick says. "We were so proud of everyone working as one team, no matter which company or department their standard job was with."