If you've logged on to your SmartHub app since the end of October, you may have noticed something different. But rest assured, although the app may appear different, all the useful information, convenience, functionality and features remain the same.
Color
One of the first things to catch your eye may be the color change of the border. It's once-green color is now a bright, GVEC red. This doesn't affect the features of the app in anyway; the change is simply an aesthetic part of the update.
Home Screen
Much of what's changed on the SmartHub app are navigational features. You may remember the older version of the home screen was a page of icons to access certain views or perform actions like checking your bill amount, viewing your usage or seeing outages reported in your area. The new home screen provides a quick, at-a-glance view of this important information—all on one screen!

From this home screen, you can click "Pay" in the Account Overview section (where your balance is shown), if you choose to pay your bill from the app. The actual payment screen functions remain the same.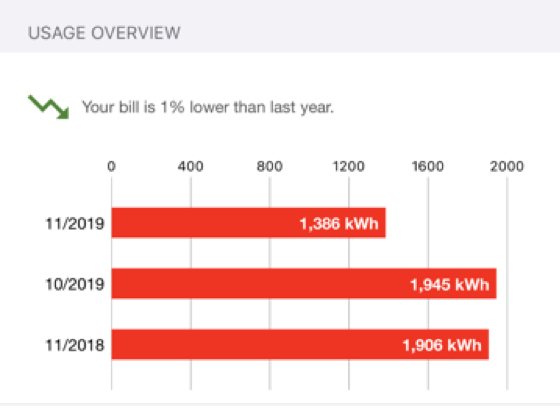 The middle section of information displays your Usage Overview. You'll see your kilowatt-hour usage for the current billing month, the last billing month and the same month from the year prior. There's also a message telling you the percentage difference from last year's bill during the same time frame.
The My Services Overview, near the bottom of the home screen, is where any reported outages in your area are shown. Under this, you'll find a red "Report an Issue" link you can tap for quick and easy outage reporting or to report other issues and make general inquiries.

Some Things Stayed the Same
Some icons remain on the home screen to access other features of the SmartHub app. Icons linking to our GVEC Facebook and Twitter pages, newsletter and outage viewing map are at the top of the screen.

Icons used to access more detailed information and perform other functions are found at the very bottom of the screen. Some of these include the Bill & Pay icon, to find your billing and payment histories, as well as enroll in or make changes to the auto pay program; the Usage icon, to view more detailed usage information; and the Notifications icon, where you'll find messages letting you know when your new bill is available, if your payment is late, or payment confirmation after payment has been made.

Even More Convenient
The updated SmartHub app's new look and feel makes using this resource even more convenient. And, of course, if you do have any questions about the update or using the app, give us a call at 800.223.4832.