At GVEC, safety plays a huge role in our day-to-day operations. From the multiple first responder safety events we host, to our monthly employee safety meetings, to equipment checks—safety is always a major priority. This focus on safety doesn't happen by accident. It's a result of the hard work of safety coordinators and buy-in from each individual employee to make it a priority. This work has not gone unnoticed—this past month, GVEC's safety/loss control coordinator, Todd Craven, won the prestigious Ray Pantel Service Award at the 2019 TEC Loss Control Conference. The Ray Pantel Meritorious Service Award is the highest honor in the TEC Loss Control Program and is given in memory of Ray Pantel, who performed his duties with the Electric Cooperative Loss Control Program of Texas for more than 20 years. This award is a huge honor, and we are extremely proud of Todd! Here is more about Todd, our very own safety guru at GVEC.
---
Who is Todd Craven?
Todd began his career in linework in 1981 with Universal Electrical Contractors before beginning his employment with GVEC in 1990 as a lineman. He quickly moved up the ranks to service lineman and then to crew foreman. On March 8, 2004, Todd was promoted to his current position of safety/loss control coordinator.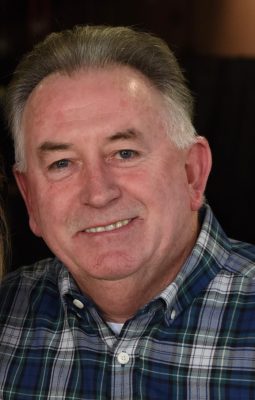 Since that time, Todd has excelled professionally, including acquiring Certified Life Care Provider (CLCP) status. He serves as a board member/director of the Texas Electric Power Conference (TEPC), is a member of the National Utility Training and Safety Education Association (NUTSEA) and serves as chaplain for the Texas Lineman's Rodeo Association (TLRA). He has presented countless safety presentations to cooperative members, GVEC employees, first responders, school children and TEC Loss Control Conference attendees.
Outside of GVEC, Todd is an ordained Baptist minister and pastor at Harwood Baptist Church. In February of this year, Todd and his wife, Janell, celebrated their 33rd wedding anniversary. They have three children, six grandkids and seven great-grandkids, and they love spending time with their big family. Some of Todd and Janell's favorite things to do together are running, playing golf and visiting Texas hotspots like Fredericksburg and Corpus Christi. Todd also likes woodworking with hand tools and has run eight half marathons.
Thoughts from Todd
"I was certainly surprised and greatly humbled to be nominated for and to receive the Ray Pantel Meritorious Service Award. It truly is an honor. I appreciate my GVEC coworkers and Representatives of Texas Electric Cooperatives very much for their efforts in presenting this award to me."
General Manager & CEO Darren Schauer Shares His Congratulations
General Manager and CEO Darren Schauer was pleased to share his congratulations with Todd. "I have had the privilege of knowing Todd Craven my entire career at GVEC. He is a person to whom I have continually looked for advice and counseling regarding the safety and wellbeing of our employee family. Throughout his career, Todd has exemplified a genuine sense of caring for his fellow employees. This caring attitude is not only reflected in the instruction and advice he provides, but more importantly, in the relationships that he has developed with our employee family. Through his actions, employees know that Todd genuinely cares for each of them. I've heard him say many times, 'I am my brother's keeper.' Todd lives by this verse and encourages others to do the same. Congrats, Todd. You are certainly a very worthy candidate for this recognition, and we are very proud of you at GVEC."
Todd is a respected member of the GVEC family, and we are blown away by his great work ethic over the years and all of his accomplishments!