If you're like most people, you may not give water towers too much thought. You probably pass them quite frequently without even noticing; or you notice and just think, "I'm almost in 'insert-name-of-town' because there's the water tower." But let's think about water towers a little more deeply for a moment—or at least for the time it takes you to read this post. Let's consider the often-underappreciated water tower and its stature as the beacons of status and displays of pride in the cities and communities they are in.
Purpose
In the simplest of terms, water towers act as storage tanks that utilize gravity to provide a pressurized flow of water to the homes and businesses surrounding them. Without getting into how a water tower works, however, let's explore what a water tower means. It means your town has "arrived." It's a symbol of prosperity and growth. It the early days of settling an area, it meant the township had attracted enough people and commerce to demand a water supply system to distribute enough H2O to provide for the needs and even emergency fire protection of a growing population. This is still true today—the bigger the populace, there more water towers you will find in growing metropolises.
Pride
In this sense, water towers aren't just storage structures for an essential natural resource. They are a source of pride—especially in areas of South Central Texas like the Guadalupe Valley. Some may be newer, indicating flourishing expansion in recent decades; some appear older, recollecting where it all began for those who came after the original inhabitants of a town. The names of cities, towns and subdivisions are often painted in big, bold letters across the massive tank looming high in the sky. Sometimes a color or emblem symbolic to the city is featured; often insignias representing a high school mascot it boastfully displayed. Some even have lights shining on them at night, alerting you to the territory you're entering around the clock.
Taking our own pride in the communities we serve, we've decided to showcase some of the water towers in our service territory:

Cibolo
An elevated fluted steel column tower, also known as a hydropillar, shows off the Cibolo's city logo at the city's sports complex. This logo features a buffalo, in reference to the origin of the city's name. Named after a creek that flows through the area, Cibolo is a Native American word meaning "buffalo." As legend has it, the Native Americans in the area would hunt the plentiful bison in the area by stampeding them over the steep banks of the creek.
Cuero
Cuero proudly displays a large "C" in their high school's chosen font as the name of their city is spelled out in Gobbler-green. The water tower is behind the high school, home of the Cuero Gobblers, and can be seen from the campus.
Gonzales
Gonzales welcomes visitors and makes them aware of the town's prominence in Texas history as they enter from Highway 183. Know for being the site where the "first shot" of the Texas Revolution was fired, the "Come and Take It" flag and cannon represented on one side of this standpipe tower. The other side presents the Apache mascot, visible from the high school football field.
L

a Ve

rnia

Representations of La Vernia's past and future are exhibited by a classic elevated multi-column tower on one side of town and a new water tower under construction in a build-out of homes on the other.
Marion
Marion is a small town with bursting with big Bulldog pride, displaying the name of their high school mascot in large, bold green print on their water tower! The elevated fluted steel column hydropillar welcomes visitors to the home of the Bulldogs.
Nixon
They've got spirit; yes, they do! The Nixon Mustangs are an evident source of pride for this small town. Their red mascot on either side of the town's name in blue boldly stand out on this shiny silver leg-type tower.
Seguin
This water tower in Seguin declares the city's slogan, "It's real." It's real neat to see it lit up with color-changing lights at night—a fun sight to see when driving along Interstate 10 in the dark.

Shiner
This elevated multi-column (leg type) water tower lets you know you are entering Shiner, "The Cleanest Little City in Texas." It demonstrates the simple, yet proud way many places choose to display their geographical significance.
Stockdale
Stockdale welcome you with one of the most recognizable water tower designs. This elevated pedesphere, also known as a "golf ball and tee," catches the attention of passers-by on Highway 87 as it stands tall above the trees and power lines in the area.
Yoakum
Another elevated pedesphere with flared steel column tower can be found in a residential neighborhood in Yoakum. Shown from two angles, the height of this structure is only out-measured by the small city's pride—as the "ball" of the tower boasts their Bulldog mascot alongside the city logo.
Yorktown
Yorktown's elevated pedeshpere also proudly displays an illustration the town is known for, alongside the city's name. The covered wagon represents the annual Western Day's festival held every October.
Other Water Towers Worth a Mention
Though these water towers aren't in our service territory, they are definitely interesting and worth a mention—or even worth a drive to go check them out in person!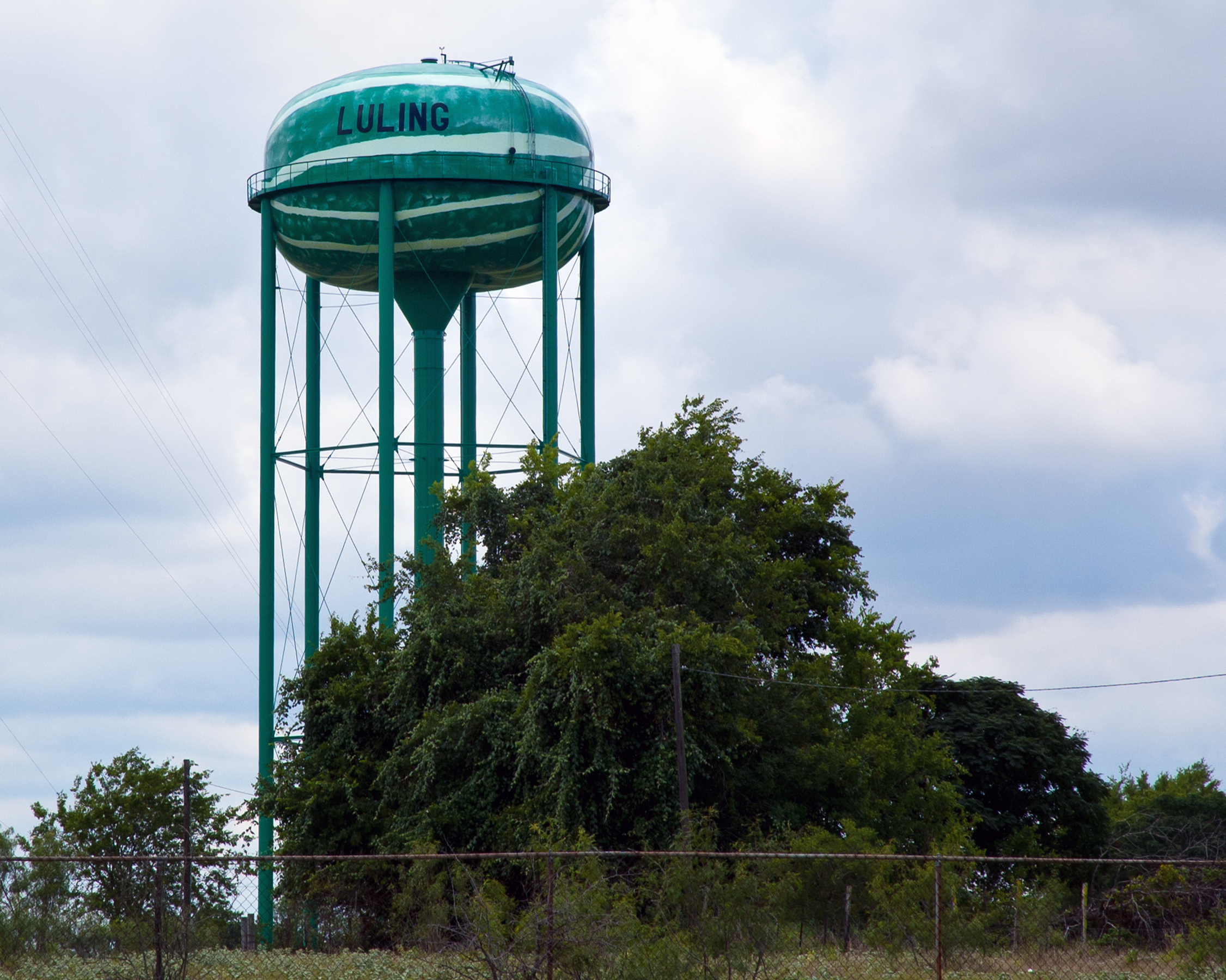 Luling
Luling displays a giant watermelon as this elevated multi-column water tower represents their annual Watermelon Thump festival, held the last weekend of every June.

Poteet
This elevated pedesphere water tower in Poteet was ideal to decorate as colossal strawberry, signifying the crop the town is known for—celebrated at their annual Strawberry Festival each April.