Sample of a GVEC member electric bill, with the Service Dates and Billing Date highlighted.
September Cooling Bills: All about that August Heat
It is hot. All over South Central Texas, we have been blanketed for about two months in a sticky, humidified wave of near-relentless heat. Many of you may be looking at the calendar thinking, "Oh, sweet September—please get here faster," and we don't blame you. Historically, September in this region tends to bring modest relief from oppressive summer heat. Hopefully, 2019 will be no different, but it's important not to associate a week or two of lower temperatures with an immediate drop in your electric bill.
To be sure, lower temperatures will, in the longer term, put a dent in your bill, but not immediately. If the temperature happens to feel mild compared to what we've experienced in July and August when you open your September bill, remember: What you do today affects your bill next month.
The Billing Cycle Explained
To understand just how important this month's weather is to next month's bill, it's important to understand how GVEC's billing cycles work. We base each member's bills on a 30- or 31-day billing period. Look closely at one of your bills, and you'll find your "Billing Date" at the very top of the bill in the right-hand corner. This is the date we issued the bill. Next, in the middle of the bill, in the tan section, top line, you'll find a segment labeled "Service Dates." This date range represents the days in the bill you were charged for using GVEC electricity; the last date here will be between seven and 14 days before the Billing Date.
Although weather can change quite a bit in two weeks, you'll need to think further back than 14 days. In a 30 or 31-day billing cycle, the first Service Date could be up to six weeks before the Billing Date. The weather on the day you receive the bill—or even the weather in the days leading up to the bill—tells you nothing about what to expect from the bill.
Understanding Your Bill the SmartHub Way
For deeper insight into your electric bill, it's important to look at both your usage and at the outside temperature for the days in the billing cycle. You can quickly and easily review this information using SmartHub®, GVEC's online customer portal. SmartHub includes a set of features to help you better understand and manage your household energy usage. These energy management tools can enhance your control over energy usage during the hottest parts of summer, while also helping keep that September energy bill from being a shocking experience.
SmartHub Usage Explorer
SmartHub Usage Explorer may be the most powerful of the online portal's tools. GVEC members can use Usage Explorer to see their energy usage per month, day and hour. You can also see the average temperature per month and day, along with highs and lows for each day. Generally, this information takes two days to be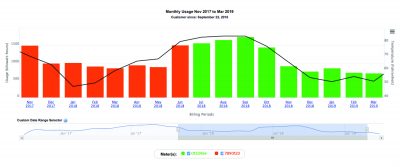 integrated into the portal; for example, you won't see usage numbers for Sunday until Wednesday and so forth.
Usage Explorer won't tell you how you used the electricity you're billed for, but it can help you understand what activities contribute to more or less usage on any given day or at any given time. To really dig down into SmartHub Usage Explorer, you may need to keep an "energy usage" log; doing so could help you significantly trim usage.
Furthermore, seeing the high and low temperatures for each billing day can help you directly compare what you were doing on those days with the charges on your bill. What did you have your AC thermostat set to on those days (check your energy usage log)? Did you know that AC/heating accounts for 50 percent of the average electric bill or that you can save around four percent on your bill for each degree you raise your thermostat in summer? Combine all that knowledge with Usage Explorer and you've got a powerful tool for curbing summertime usage.
Other SmartHub Usage Management Tools
While SmartHub Usage Explorer may be the portal's most powerful energy management tool, it isn't the only one. Other such tools include Usage Alert (alerts you when you reach a specified usage threshold that you specify); Usage Comparison (allows you to compare any two billing statements from your household history); and Average Usage (allows you to view average energy consumption for a selected date range). Keep in mind that SmartHub has addition tools beyond these, too.
GVEC Membership and Savings Go Hand in Hand
GVEC membership grants you automatic access to SmartHub, and we encourage you to log in, familiarize yourself with it and take advantage of this powerful platform. We also encourage you to call us anytime, Monday through Friday, between 8 a.m. and 5 p.m. at 800.223.4832, with questions about your bill.
For more on energy efficiency, keep a close eye on our blog, and be sure to check out our monthly newsletter—The GVEC Review, inside Texas Co-Op Power magazine—for even more energy saving tips.