Did your bill seem a little higher this month? That's because it's for August usage, one of the hottest months of the year. When it comes to your electric bill, weather matters!  If you'll notice, during Fall those bills seem to go down a bit due to the weather being a little more mild. That fluctuation is normal and it starts with the temperature outside. As they say, knowledge is power and it can help you combat those large fluctuations in your bills year round! Here are some common questions members ask that can help you understand how weather affects your bill and what you can do to save money this winter!
Summer is over, so why was my last bill so high?
Weather is one of the biggest drivers when it comes to electric usage, especially during the coldest and hottest months of the year. In this case the high temperatures in August drove up September/October bills. Remember, your bill reflects the previous 30 days of usage, which includes things like weather and habits.
What about my thermostat setting? Isn't that important too?
Even if you never change your thermostat the weather is always changing. The greater the difference between your thermostat setting and the outside temperature, the harder your AC/Heating system will work in order to reach and maintain your thermostat's set point.
What else could affect my electric bill in COLDER MONTHS?
Habits and the duration of cold temperatures can increase bills.  
We tend to use more electricity by staying inside watching TV, using computers, playing video games, etc.

Some people take long, hot showers or baths to warm up. Electric water heaters are the second largest energy consumer in a home.

Using space heaters or fireplaces are inefficient sources of heat. Most space heaters use a lot of energy to run.

The number of consecutive hours and days temperatures remain low outside is another factor. Without adequate insulation, the roofs and exterior walls stay cool (or hot in the summer), which means your system has to work harder to keep your home warm.
What can I do to lower my bill?
Save energy by keeping your thermostat setting lower in the winter or higher in the summer. For every degree you lower your thermostat in the winter and raise it in the summer, you can save up to 4 to 6 percent on your heating and cooling costs. If you have a heat pump system, make sure you don't manually switch your system to auxiliary/emergency heating mode.  A properly operating system knows when to rely on emergency heating when necessary.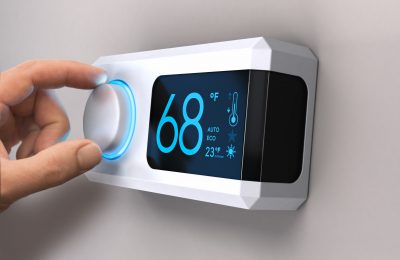 How much of my electric bill is based on heating and cooling?
Nearly 50 percent. So by simply adjusting your thermostat to the appropriate temperature, it truly can make a difference on your bill.
What temperature ranges do you recommend?
The Department of Energy recommends raising your thermostat to 78 degrees in the summer and lowering it to 68 degrees in the winter.  
With the winter months coming, know that higher bills come with it unless you practice energy efficiency.  This is typically December through February and maybe March, depending on the weather during February.