GVEC is a cooperative: at heart, a group of people coming together for a common purpose. This means our primary interest is in reliably and affordably meeting the needs of our consumers, not lining the pockets of financial investors.
A Cooperative Works for Your Best Interest
There are two sides to our cooperative:
Membership in the not-for-profit electric portion of our business which features exclusive member benefits, and additional services beyond the meter extended to both members and the general public.
When revenues exceed expenses, and at the discretion of the Board of Directors, excess funds are either disbursed to the member-owners in the form of capital credits, or invested back into Cooperative operations to support future needs and new services.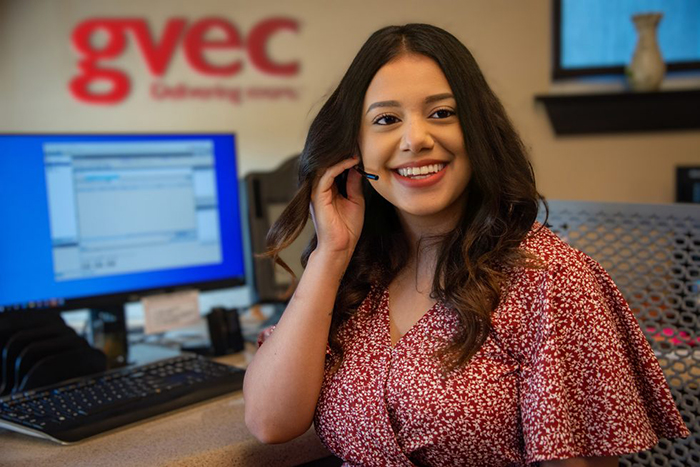 GVEC is a cooperative with a bigger purpose than just delivering products and services.
We wholeheartedly believe in empowering the people and communities we serve with unbiased information, responsive services, and tangible resources. Our scope of work is based on the overall value we can contribute to your home, life, and community combined.
The 1938 establishment of the Guadalupe Valley Electric Cooperative transformed the quality of life for many rural families through teamwork, vision, and a commitment to empowering the people and communities it served. Though our Cooperative services and customers are more diverse than ever before, those same values remain rooted in the work of GVEC still today.
A Strong Past and Vibrant Future.
In the early 1930s, most of rural America was in the dark. Power suppliers did not expand their lines to reach the people living outside of the cities.
In 1936, Congress created the Rural Electrification Administration (REA) to provide commercial electric companies loans to supply power to rural areas.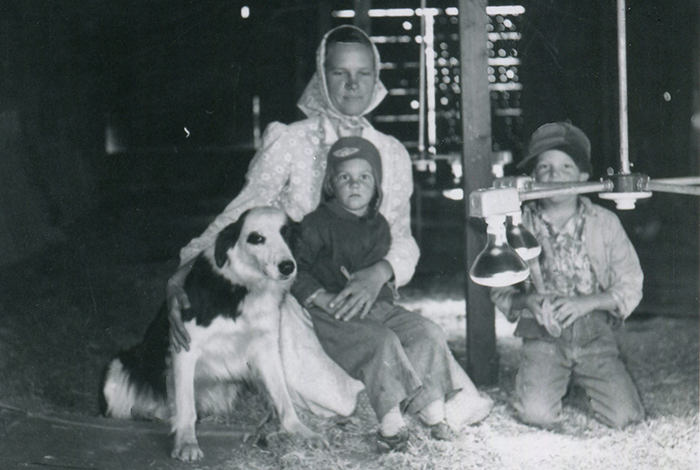 After the commercial companies neglected to make use of the loans, locally owned cooperatives took charge.
The Guadalupe Valley Electric Cooperative was founded on December 2, 1938, by a group of rural residents in the Cost area who needed electricity for their farms. On April 5, 1939, the REA approved the first loan to the Cooperative in the amount of $166,000 to be used in building rural electric lines. Construction began in May of 1939, and eight months later, the first GVEC lines went into service. Approximately 150 members in the Monthalia-Bebe area of Gonzales County were the first to receive electricity from GVEC. We helped bring the citizens of our rural areas out of the dark.
Over the years, the number of GVEC members grew rapidly. The management consistently met their needs by expanding and upgrading the transmission and distribution systems throughout the service area. GVEC also added various services and constructed new facilities to better serve the membership: a methodology of service still in place today.On January 1, 2002, GVEC consolidated with the DeWitt Electric Cooperative. The consolidation added over 1,300 square miles of service territory and several thousand new customers. In 2003, current General Manager and CEO Darren Schauer began serving as GVEC's fifth general manager in the history of the Cooperative.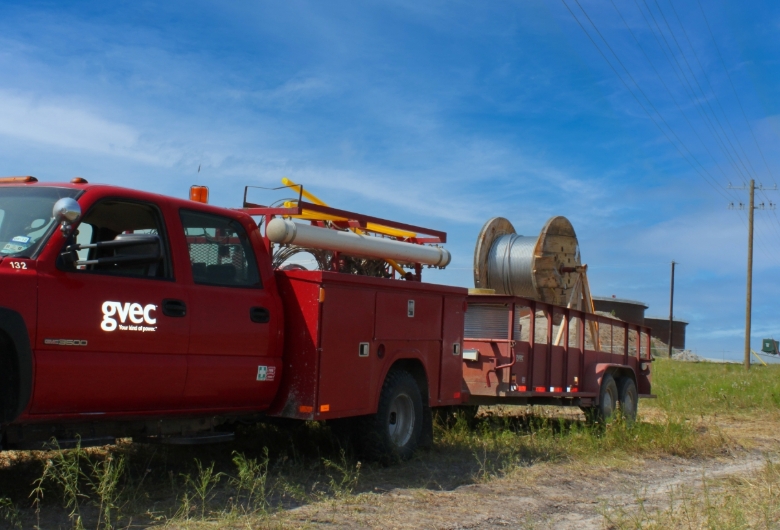 Credited with a progressive leadership style driven by strategic planning and operations, his passion for good service has led GVEC to provide diverse services beyond electricity and build the flexibility it needs to adapt to future challenges.
Our story began in 1938 with our pioneering leaders coming together to serve electricity to their local farms and neighbors. Over the years, GVEC's offerings have grown more diverse along with our South Central Texas audience. Although we continue to serve electricity, we are not just an electric utility. Our products and services go beyond the meter to do more for our customers and communities.
Serving the South Central Texas Region.
Our electric service area spans 3,500 square miles over 13 South Central Texas counties. Over the years, we have expanded our high-speed internet, HVAC services, solar sales and service, and electrician services to serve members as well as the public residing in the surrounding areas of our electric service territory.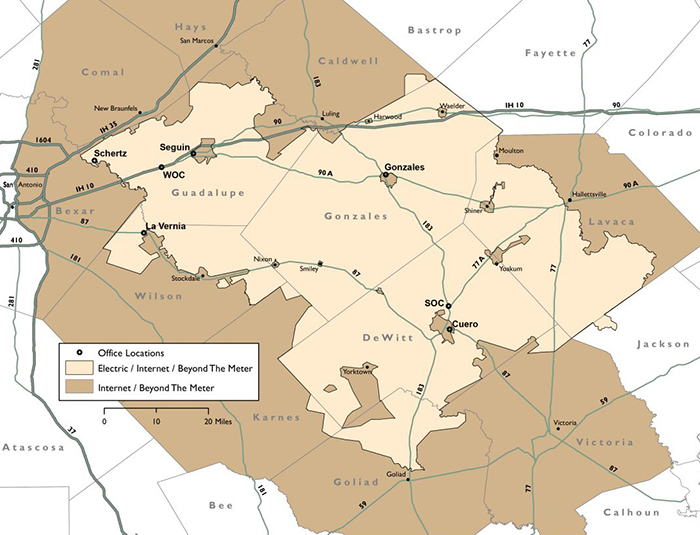 Progressive Services, Hometown Integrity.
As one of the largest and most progressive cooperatives in Texas, we specialize in delivering products and services that fulfill the needs of thousands of families and businesses relying on us every day. Today, that takes the form of Electricity, internet, AC/Heating Sales & Service, Solar options and Electrician services covering Cuero, Gonzales, La Vernia, Schertz, Seguin and surrounding areas through:
Five modern customer service centers
Two state of the art Operations Centers
Fleet of mobile line crews as well as installation and service technicians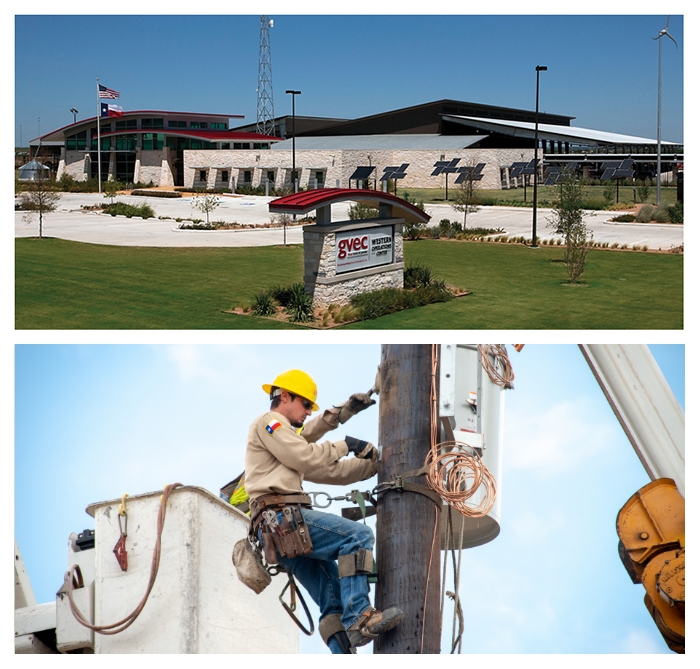 Most importantly, our employees are good people that live and work in the communities they serve. They care about the level of service you receive because you'll see them at the grocery store, at church, and sharing in everyday community life. At GVEC, we are a team of professionals who take pride in our values and providing local service with integrity.
A Genuine Community Resource.
Supporting our communities is a defining characteristic of our Cooperative service. Among the many
community-oriented
programs we offer, you're also likely to see us out actively walking for a cure for cancer, celebrating first responders, and providing resources to our local teachers and Chambers.In addition, we also work with local and state organizations to attract new business through a long standing tradition of
economic development
efforts.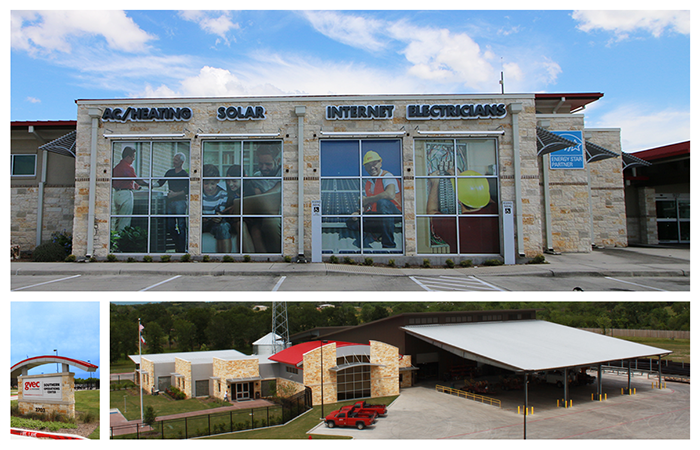 An Employer with Purpose.
It takes an army of professionals to support the varied services of our robust cooperative. Most applicants are surprised to find that GVEC offers an array of careers from positions in Customer Service to Energy Procurement, Engineering, Marketing, GIS Mapping, Communications and many more.
We have high expectations for those who are part of our team, but we also stand behind the people who support us with excellent benefits and advancement support programs. We look for people who offer talent, a positive attitude, creative ideas and the work ethic to deliver unexpected results.
Every employee and Board Director that works on behalf of GVEC believes in and strives to reflect our Cooperative Vision, Mission, and Corporate Values in all the we do.