Our Electric-Driven Future
Save Money. Drive Electric.
---
If you think going green with an electric vehicle (EV) only benefits the environment, think again. You could benefit your pocketbook by saving some green of your own, as well! Highways filled with all-electric-powered cars might still seem like a daydream of the distant future, but that future is closer than you may imagine.
That's why GVEC is taking the same forward-thinking approach that we did 80 years ago, when the farmers who formed the Guadalupe Valley Electric Cooperative sought to bring the power of electricity to their rural communities.Just as our founders did not settle for our area being left behind back then, GVEC is taking the lead to ensure our service territory will not be left behind as the evolution of EVs continues its momentum.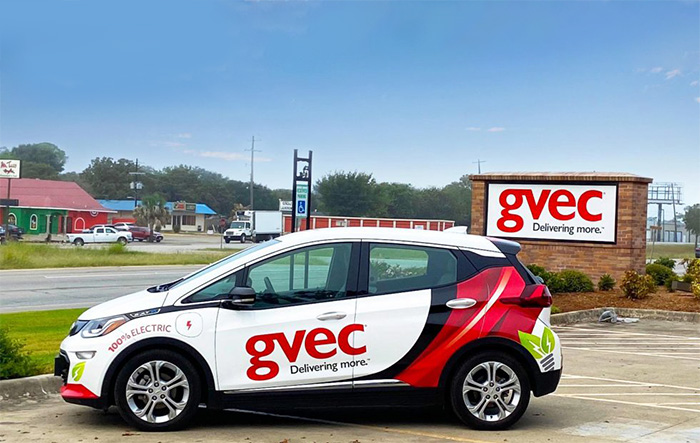 Electric Vehicles: More than a Trend
---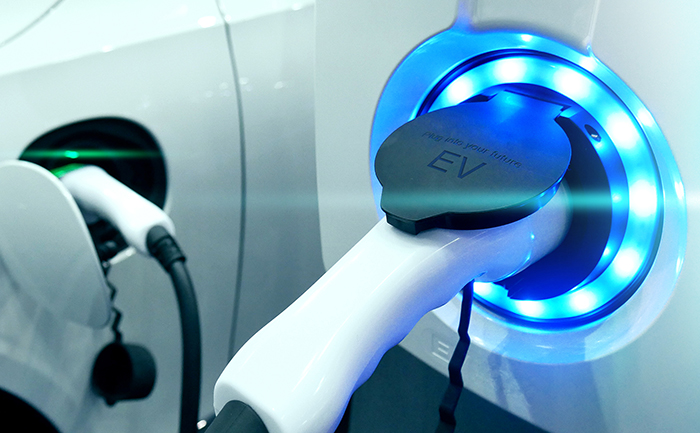 While reasons such as price, range from battery charge and lack of selection gave reasons to think driving electric was only a trendy fad in the recent past, studies show that electric vehicles are here to stay—and are growing in popularity at an impressive pace!
In fact, experts have predicted that electric vehicles will become less expensive to own than traditional vehicles in the marketplace by 2024, with EV sales making up over half of all sales by 2040. What's expected to drive up interest in electric-powered cars and trucks in the next few years?
The biggest factor is a 93% reduction in lithium-ion battery costs from 2010 to 2030. This means a battery with a price tag of $1,000 in 2010 will cost only $73 by 2030. This is why EVs will be cheaper to buy and operate than most internal combustion engine (ICE) vehicles, as well as feature lower lifetime costs. Additionally, influential automakers will become major players in the EV market by the early 2020s. For example, Ford is set to produce 13 and GM is set to produce 20 EV models by 2023.
Take Home Charging to Another Level
For many EV owners, the 120-volt charger included with the vehicle won't charge quickly enough—especially if you're in a hurry and need a usable charge in a short time.
This is why many owners ultimately upgrade to a 240-volt model—also known as a Level 2 charger. Level 2 offers greatly reduced charge times, helping assure owners they always have enough "in the tank" for whatever life demands.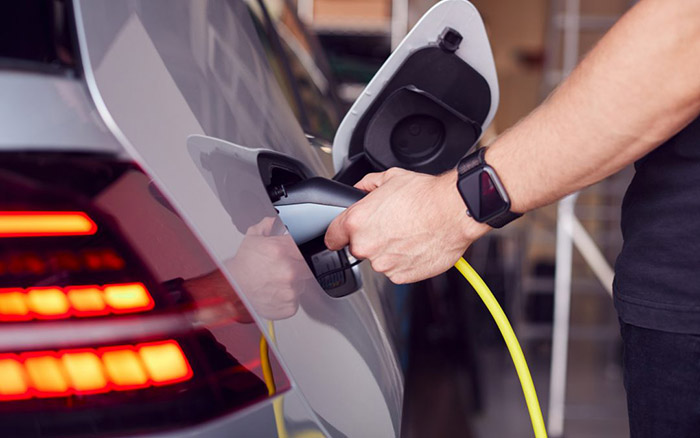 Get At-Home or Commercial Charger Installation for Up To 50% Off
GVEC sells and installs Level 2 charger–both at-home and commercial models. Right now, in fact, whether you purchase your charger from GVEC or not, you'll get the lesser of 50% or $600 off home-charger installation or the lesser of $3,000 or 50% off commercial installation.
Click here for the complete terms of this offer and/or to schedule an appointment, or call GVEC Electrician services at 833.260.9029. One of our customer service representatives will be happy to help you.
Electric Vehicles: A Fit for GVEC
---
In keeping with our commitment to identifying and investing in the future of the electric industry, GVEC purchased its first all-electric vehicle in October 2018. Nicknamed "Sparky" by a social media poll, this 2019 Chevy Bolt is equipped with a 60kWh lithium-ion battery and a maximum range of 238 miles per charge.
It is propelled by a 200 horsepower/266 foot-pound electric motor capable of 0 to 60 mph in 6.5 seconds. The interior includes a 10.5-inch touchscreen display that provides real-time stats on battery charge level, range estimates and more.
In addition to cost-savings, GVEC also purchased Sparky to gain a better understanding of how EV charging will affect the electricity distribution system, as well as how our members and communities may benefit from switching to all-electric transportation.
Considering the predictions for rapidly rising production and purchasing of EVs, preparation for the additional electricity pull from the power grid is essential. Understanding this expected EV retail growth, GVEC has installed two public-use "fast" charging stations. Building vehicle-charging infrastructure proactively will make the transition from ICE vehicles to EVs easier in the future for those in our communities.
These GVEC Power Tower™ electric vehicle charging stations will offer fee-based public access, providing the same sense of security and convenience for travel as a gas station does for motorists becoming low on fuel. One Power Tower™ is at GVEC's Seguin Customer Service office and the other is at our Western Operations Center, both off I-10, centrally located between San Antonio, Austin and Houston.
Money Saving & Other Benefits of Driving EVs
Estimates show that driving electric costs about half as much as it does to drive a traditional ICE vehicle.
The chart shows the cost to drive a very fuel-efficient sedan 400 miles, with a gas price of $2.50/gallon, compared to an EV with an electricity cost of approximately $0.10/kWh.
Cost of Fueling-Up vs. Charging-Up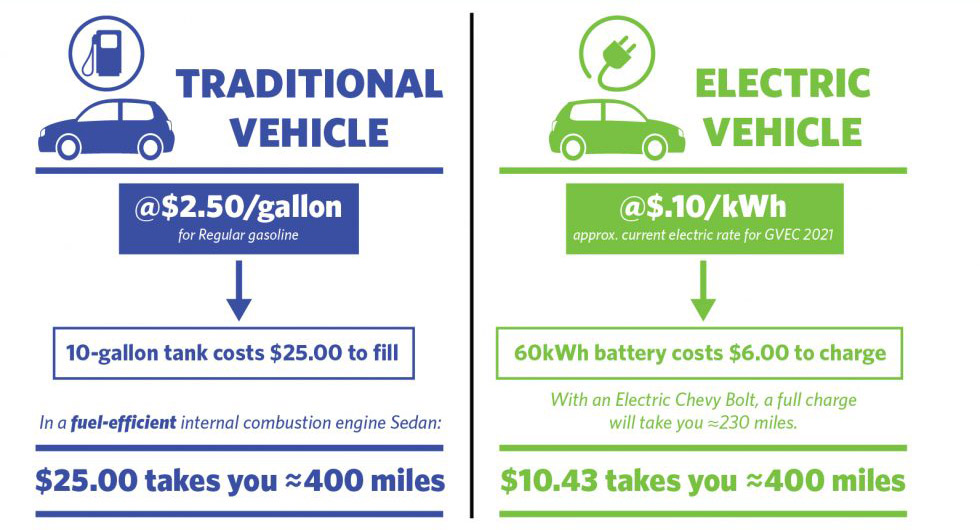 Traditional vehicles can cost more than double to operate!
Electricity prices are not only cheaper than gasoline; they are much more stable as well.
With EV's, there are no oil changes, transmission fluid levels to check, or belts and hoses to replace, making the vehicle maintenance costs less and more convenient.
EV's are easier on the wallet in terms of engine repairs. Having a smaller number of moving parts than traditional vehicles equates to having less parts wearing or breaking down.
A federal tax incentive of up to $7,500 is available for qualified EVs, according to the U.S. Department of Energy.
You can conveniently plug in at home and charge over-night with the 120-volt charger that is included with the purchase of your EV, waking up to a ready-to-go fully charged battery.
Electric motors react quickly, offering very receptive torque.
Compared to ICE vehicles, EVs are generally more digitally connected, offering a few more technological bells and whistles such as—extensive diagnostic testing upon start-up; self-shifting into park and self-setting parking break when the driver seatbelt is released; and charging station locator apps, such as ChargePoint, that show you charging stations within their network, as well as others, and also allow you to pay for your on-the-go charging.
Since almost all U.S. electricity is produced domestically, utilizing electricity as a fuel source for transportation diversifies the nation's fuel options, helping to make the U.S. less vulnerable to spikes in petroleum prices.
Take a test drive with Sparky and learn more about our Power Tower Fast Charging Stations
Wondering how the traditional internal combustion engine vehicle you currently own or are planning to buy would measure up to an EV model in terms of overall cost of ownership?  Visit the U.S. Department of Energy's  Alternative Fuels Data Center's Vehicle Cost Calculator to find out!