We offer multiple ways to pay your bill
We offer a number of ways to pay your bill: by automatic payment, online, over the phone, by mail or at any Customer Service Center. To protect your privacy and avoid delays or extra costs, we recommend making your payments directly to GVEC, rather than using third-party bill pay services.
New to SmartHub? Sign up here or learn more about downloading our FREE mobile app. In addition to making payments, you'll be able to manage your account from SmartHub, too. While you're there, sign up for eBill to receive your statements by email.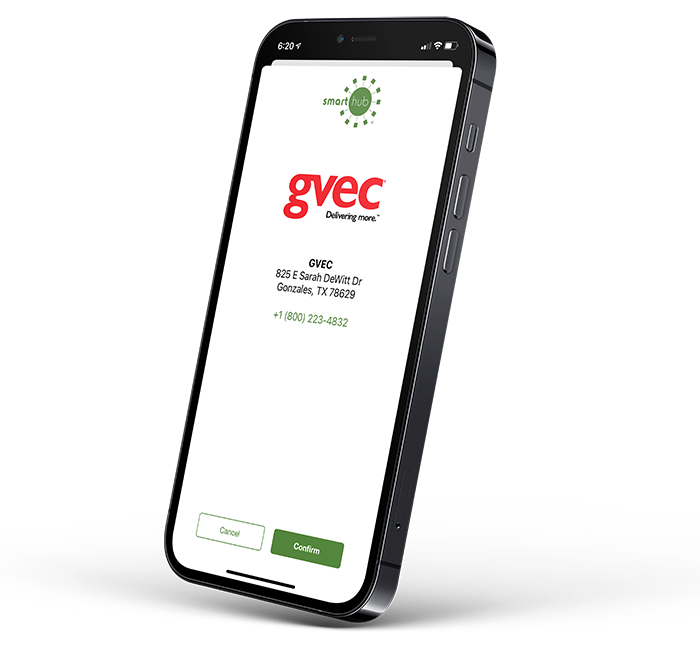 Automatic Payment / Online Payment
Automatic payment (through SmartHub) – ensures your payment is made on time every month, eliminating late payments and fees. Just set it up once in SmartHub, GVEC's self-service portal—that's it! When choosing this option, there are two methods available:
Bank Draft allows you to specify a savings or checking account to automatically debit the amount of your bill each on your billing due date.
Credit or Debit Card Draft allows your account to be automatically debited for the amount of your electric bill each month on your bill due date. Visa, MasterCard, Discover and American Express are accepted.
Online payment
(through SmartHub)
– allows you to make a one-time credit card, debit card or e-check payment any time, day or night, via SmartHub.
Phone — Pay your electric bill by phone 24/7 using our automated IVR system with a credit card or e-check at 888.301.3652. You will need your account number or a good phone number listed on the account.
Drive-up Windows — Located at all five Customer Service Centers, open from 7:30 a.m. – 5:30 p.m. Monday – Friday.
Night Drop Box — Located in the drive-thru lane for after-hours convenience at all five Customer Service Centers. Secure forms of payment include checks and money orders.
Kiosks — Located at the Schertz and Seguin Customer Service Center drive-thrus. Our 24/7 kiosks accept cash, credit cards and electronic checks. Payments are posted immediately to your account and you'll receive a receipt. Be sure to have your bill stub or your account number handy to use a kiosk.
Lobby — Come inside one of our five Customer Service Centers to pay your bill.
Mail — Send your check or money order payment to: GVEC, P.O. Box 118, Gonzales, TX 78629.
Keep Your Account Information Updated
It's important to keep your account information current so we can provide the best service possible. You can use SmartHub to update such things as phone numbers and email addresses yourself, or call a Customer Service Representative at 800.223.4832 to update your account.
If you have questions about making payments to GVEC, call 800.223.4832 to speak to a representative.