District Meetings
---
District and Annual Meetings are an important aspect of the cooperative business model. These meetings are the members' chance to hear current reports from the leadership of GVEC, ask questions regarding the current business of GVEC and other topics of interest. District meetings are the time for members residing in that specific district to nominate a Director-Candidate to represent their district on the Board of Directors. Director-Candidates running for positions are officially elected at the Annual Meeting by the full membership. See below for more details:
District Map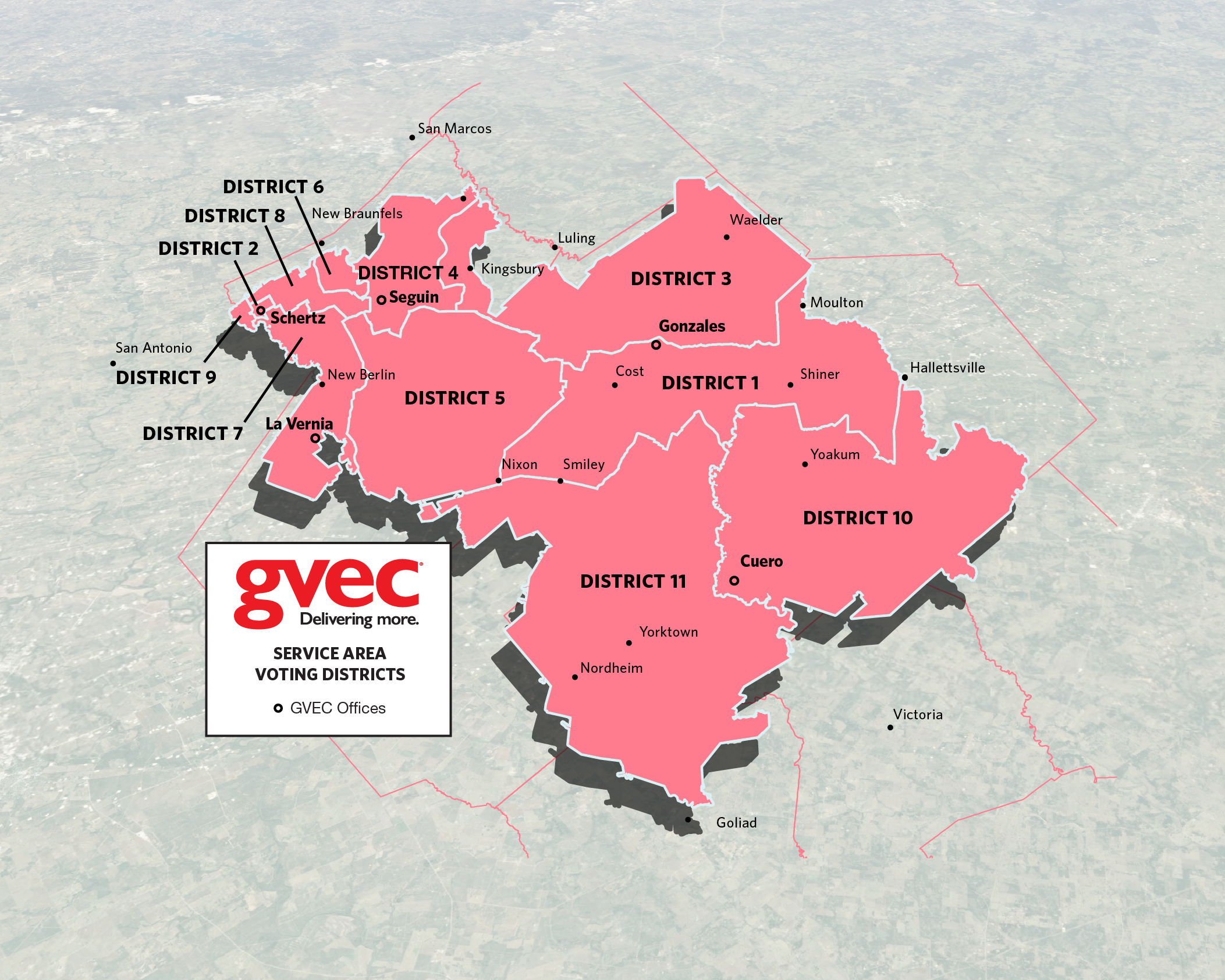 GVEC District Meetings
When are GVEC District Meetings Held?
GVEC District Meetings are held every year on a rotating basis. Districts 5, 8 and 2 meet in 2023.
The Cooperative's 11 geographical regions—districts—are spread across 3,500 square miles of service territory. Each Director represents his/her district on our Board for a three-year term. At the end of a term, a new election must be held. This is why each district meets only once every three years.
What Happens at GVEC District Meetings?
Members of the district nominate and/or vote on a Director-Candidate for a new three-year term. That Director-Candidate then moves on for a vote by the full membership at our Annual Meeting (always the fourth Friday in June).
We've Scheduled the Following GVEC District Meetings for 2023:
District 5
---
Thursday, March 2, 2023
Forest Hills Baptist Church
8251 FM 1117
Seguin, TX 78155

District 8
---
Thursday, March 9, 2023
Crosspoint Fellowship Church
2600 Roy Richard Drive
Schertz, TX 78154

District 2
---
Tuesday, March 21, 2023
Cibolo Grange Hall
413 N Main Street
Cibolo, TX 78108

Registration for each meeting starts at 6 p.m., while all meetings begin at 6:30 p.m.