As a cooperative, GVEC has a unique business model that allows and encourages supporting the members, customers, and communities served through our electric, AC/Heating, Electricians services, Solar & Battery Storage and Internet services.Therefore, Good Corporate Citizenship is part of fulfilling our commitment to our GVEC Corporate Values. Our efforts take many forms from electric bill-pay assistance, community project grants, donations and sponsorships, economic development activities, safety and efficiency education, youth programs, scholarships, volunteerism and more!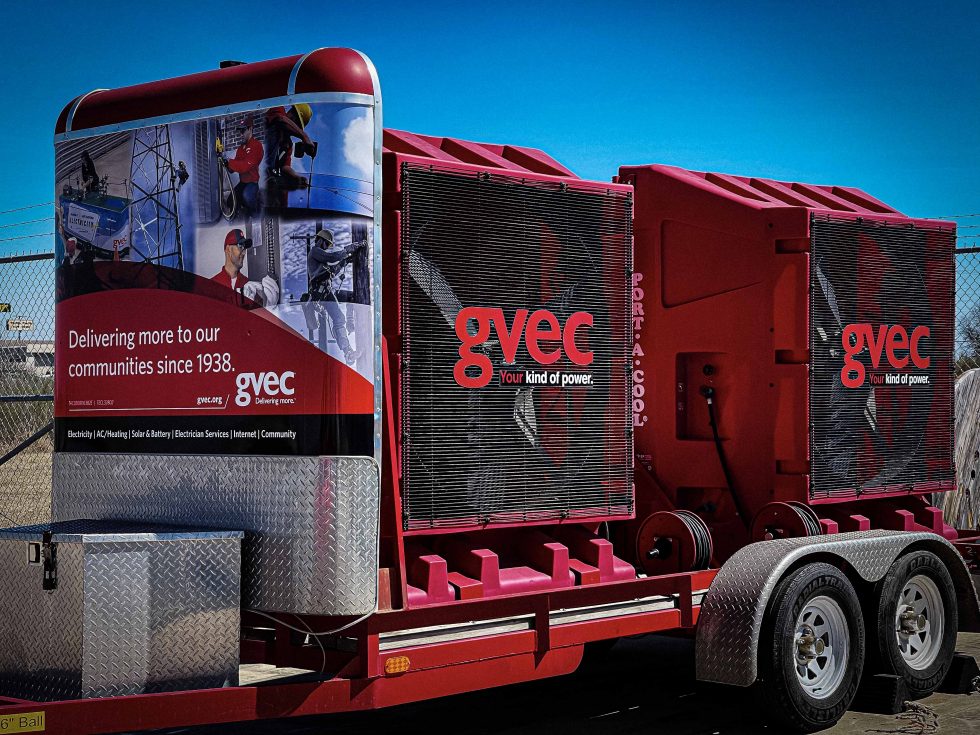 Team GVEC is made up of good people living, working, and playing in the communities we serve, and we believe in making a difference for the thousands who rely on our support every day.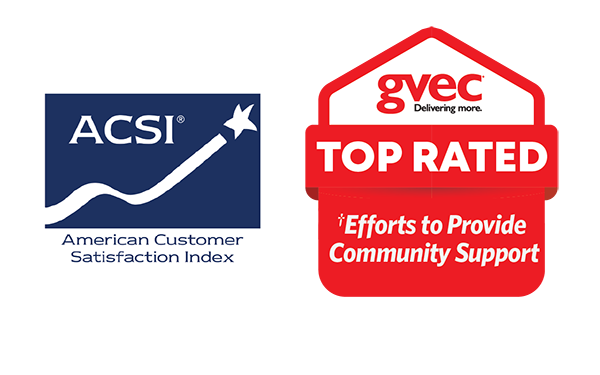 *Compared to publicly measured companies in the 2022 American Customer Satisfaction Index (ACSI®) survey of customers rating their own †energy utility provider or **internet service provider. Data for GVEC Energy utility and Internet collected by ACSI in 2022 based on a sample provided by GVEC. ACSI and its logo are registered trademarks of American Customer Satisfaction Index LLC.
Click below to learn more about GVEC community services:
Power Up Charitable Funding Program:
Through the generosity of participating GVEC members rounding up their electric bills to the nearest dollar, members needing bill pay assistance and non-profit groups seeking funding for a community project can potentially get help through this program.
Community Rooms:
Does your non-profit group need a meeting space? GVEC is happy to extend our conference room
space FREE for use at each of our five offices when available.
Educational & Community Presentations:
We welcome the opportunity to visit your school, library, community or civic organization to present on topics such as electrical safety, careers at GVEC, energy efficiency, GVEC services and more! Let us know what you are interested in.
Port-A-Cools:
Is your non-profit organization holding an outdoor event open to the public? If you need some relief from the hot Texas heat, our port-a-cools are available FREE of CHARGE on a first-come, first-served basis, provided all guidelines are met.
Scholarships:
Is your graduating senior planning to attend college or trade school? Help him or her apply for a GVEC scholarship!
Sponsorships/Donations:
If you are a non-profit offering community services to adult or children, contact us for potential support!
GVEC Public Service Award:
Know an individual or organization who has done an outstanding job to support the GVEC service area in some way? Nominate them for a GVEC Public Service Award!
Economic Development:
GVEC has a long history of proactively working with our local Chambers and Economic Development offices to help attract new industry and business to our region. We are happy to work with business and site selectors interested in our area with our services, area demographics and contacts throughout the Guadalupe Valley.