Cooperative Member = Cooperative Vote
If GVEC is your electricity provider, you are a member-owner of the Cooperative. As a member-owner, you get a say in how the Cooperative is run.
Want to make your voice heard? It's easy: All you have to do is vote!
What am I Voting For?
Members-owners are entitled to vote in our yearly Board of Directors election, held at our Annual Meeting. Most years, three or four Director-Candidates are up for election, depending on the yearly rotation of the Cooperative's 11 Districts.
However, because COVID-19 forced postponement of GVEC's 2020 Annual Meeting, Districts 2, 5 and 8 will be carried over to 2021. These will be in addition to our customary rotating District elections for 2021, which include Districts 3, 6, 9 and 11.
Members are also entitled to vote on various other agenda items presented at the Annual Meeting.
I Can't Attend the 2021 GVEC Annual Meeting. Can I Still Vote? — Yes!
You may submit an Official Proxy vote in a number of ways:
Just inside the front cover of June's Texas Co-op Power magazine, you will find a printed version of the Official Proxy along with a postage-paid return envelope. Simply detach the Proxy, mark it according to your preferences,

sign it, seal it in the postage-paid envelope and drop it in the mail

. Please note: Your Proxy must be received no later than 5 p.m., June 18.
You can also log into directvote.net/gvec to cast your vote. To log in, use your member number and passcode, both listed on the front cover mailing label of June's

Texas Co-op Power magazine. If you cannot locate your TCP magazine, email support@directvote.net to obtain your log in information.

Vote via SmartHub®. If you have a current SmartHub account, sign into SmartHub via desktop computer or the free mobile app. You'll see a "Vote Now" button on the homepage. Click it and you'll be sent to the electronic voting portal. Scan the QR code to log into SmartHub.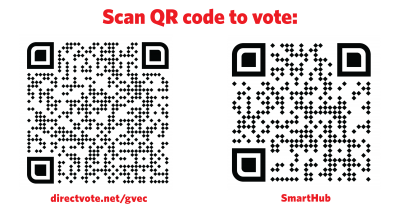 Proxy Votes are Cast and Counted at the 2021 GVEC Annual Meeting
By voting via Official Proxy, either in print or electronically, you instruct the Board of Directors to allow Melvin E. Strey, or in his absence, another person selected by the Board, to cast your ballot for you. Your Proxy will be received, validated, counted and maintained by the General Manager or by the General Manager's designee of Survey and Ballot Systems, an independent provider of secured voting services, and will be held confidential.
When is the 2021 GVEC Annual Meeting?
This year's Annual Meeting is June 25, beginning at 7:00 p.m. (registration starts at 5:30 p.m.) at the Gonzales High School Special Events Center, 1801 N. Sarah DeWitt Drive in Gonzales, Texas.
We look forward to seeing you there!