Who We Are Today
Our story began in 1938 with our pioneering leaders coming together to serve electricity to their local farms and neighbors. Over the years, GVEC's offerings have grown more diverse along with our South Central Texas audience. Although we continue to serve electricity, we are not just an electric utility. Our products and services go beyond the meter to do more for our customers and communities.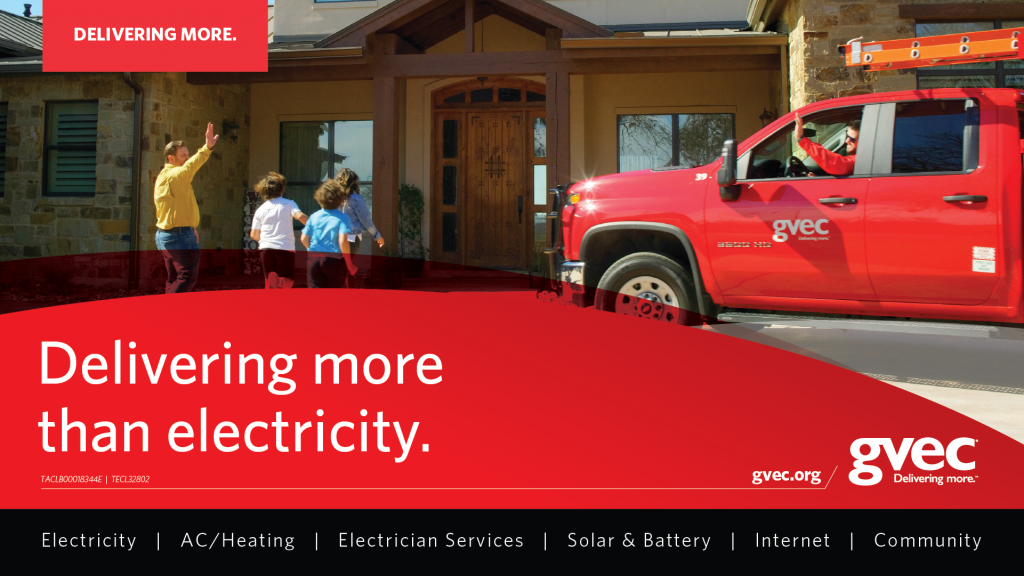 Serving the South Central Texas Region.
Our electric service area spans 3,500 square miles over 13 South Central Texas counties. Over the years, we have expanded our high-speed Internet, HVAC services, solar sales and service, and electrician services to serve members as well as the public residing in the surrounding areas of our electric service territory.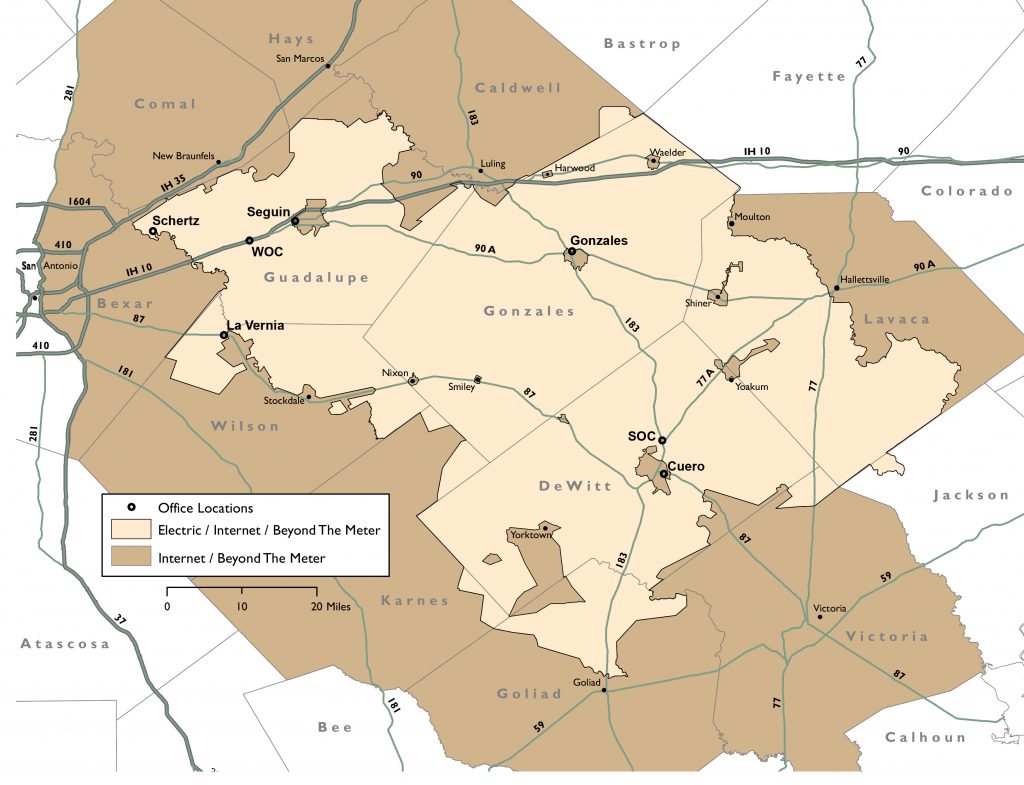 Progressive Services, Hometown Integrity.
As one of the largest and most progressive cooperatives in Texas, we specialize in delivering products and services that fulfill the needs of thousands of families and businesses relying on us every day. Today, that takes the form of electricity, Internet, AC/Heating sales and service, solar options and electrician services covering Cuero, Gonzales, La Vernia, Schertz, Seguin and surrounding areas through:
Five modern customer service centers
Two state of the art Operations Centers
Fleet of mobile line crews as well as installation and service technicians

Most importantly, our employees are good people that live and work in the communities they serve. They care about the level of service you receive because you'll see them at the grocery store, at church, and sharing in everyday community life. At GVEC, we are a team of professionals who take pride in our values and providing local service with integrity.
A Genuine Community Resource.
Supporting our communities is a defining characteristic of our Cooperative service. Among the many community-oriented programs we offer, you're also likely to see us out actively walking for a cure for cancer, celebrating first responders, and providing resources to our local teachers and Chambers. In addition, we also work with local and state organizations to attract new business through a long standing tradition of economic development efforts.
Why do we do it? Because the roots of GVEC were planted upon being a trusted resource for our communities, so caring for our neighbors from educational presentations, expert efficiency advice, grant programs, and scholarships is simply the right thing to do.
An Employer with Purpose.
It takes an army of professionals to support the varied services of our robust cooperative. Most applicants are surprised to find that GVEC offers an array of careers from positions in Customer Service to Energy Procurement, Engineering, Marketing, GIS Mapping, Communications and many more. We have high expectations for those who are part of our team, but we also stand behind the people who support us with excellent benefits and advancement support programs. We look for people who offer talent, a positive attitude, creative ideas and the work ethic to deliver unexpected results.
Every employee and Board Director that works on behalf of GVEC believes in and strives to reflect our Cooperative Vision, Mission, and Corporate Values in all the we do.
Vision
MOVING SWIFTLY TO DELIVER THE UNEXPECTED. 
PEOPLE. TECHNOLOGY. SOLUTIONS 
Mission
Building on our heritage and having confidence in the future, GVEC is a team of professionals committed to exceeding expectations by identifying and investing in products and services that empower the people and communities we serve. 
Values
We are motivated and guided by these shared values that shape and impact every aspect of what we do. 
Customer Experience
Delivering the GVEC experience, we realize the importance of our customers and work to ensure our people and solutions exceed their expectations. 
Ethical & Professional Behavior
Seeing people as people, we will honor and respect one another, operating in a manner that reflects high morals, integrity, empathy and courtesy. 
Teamwork
Working together, we hold ourselves accountable for the impact our work has on others. We do the right thing, practicing humility and helpfulness as we work together to accomplish our goals. 
Employee Development
Focusing on developing you, we will foster an environment of continued education and training in both leadership and technical skills. We retain and promote based on attitude and aptitude. 
Good Corporate Citizenship
Investing in our communities, we work to develop and expand them, both socially and economically, encouraging community involvement by our employees. 
Safety & Wellness
Living well and working safely, we make safety and wellness a top priority and work to create a safe and healthy environment for our employees and the public. 
Responsible Financial Management
Managing resources responsibly, we will utilize the resources of our member-owners in a diligent and responsible manner, using sound judgment in all our business practices.