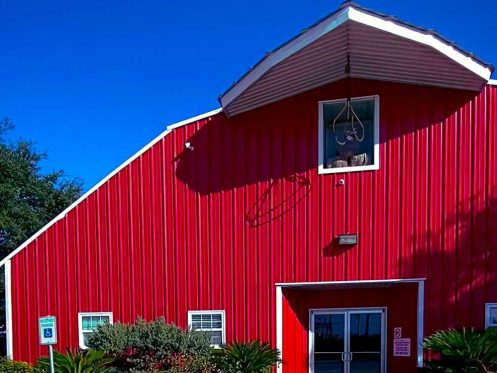 Every October, GVEC is pleased to sponsor and participate in Ag Days at The Big Red Barn in Seguin. However, Ag Days 2022 was especially exciting. Why? Our Ag Days presentation got a makeover this year!
What Are Ag Days
Ag Days are educational field trips for students centered on local agriculture. These events include numerous booths offering information and demonstrations. Students learn about a variety of subjects, including dairy, gardening and farming, wildlife management, water and energy conservation, renewable energy, nutrition, and more. Ag Days are often organized and sponsored by county-based branches of Texas A&M AgriLife Extension offices, Texas Farm Bureau Insurance firms and local business.
Electrical education for youth is ordinarily focused on safety—and rightfully so—but the Ag Days format allows us to teach students a bit of history and science too. Our exhibit includes an explanation and demonstration of how electricity is generated and delivered. We also talk about GVEC's history as the first electric provider to rural communities across the Guadalupe Valley and how we've helped advance farming and ranching across the region.
What is New for 2022?
The core of our Ag Days presentation—electricity, the cooperative way of business, science, local history—remained unchanged in 2022. However, we completely redesigned our wall-to-wall Red Barn exhibit, paring down the text and graphical content for a cleaner, easier-to-process experience. And for the first time, we've added multimedia elements, including video, touchscreen and other interactive features, and more. We were thrilled to deliver this new presentation to hundreds of 3rd, 4th and 5th graders this year, and already can't wait for 2023!
Agriculture and Learning
Ag Days at The Big Red Barn is held each October, sponsored by The Texas Agricultural Education and Heritage Center in Seguin, where the event is also held. (The building looks like a big red barn.) GVEC has participated many years. We maintain the booth year-round, too, meaning that whenever The Big Red Barn's educational wing is open during events, people can experience our display. For more information about Ag Days at The Big Red Barn or any GVEC community initiative or educational program, visit gvec.org or call 800.223.4832.