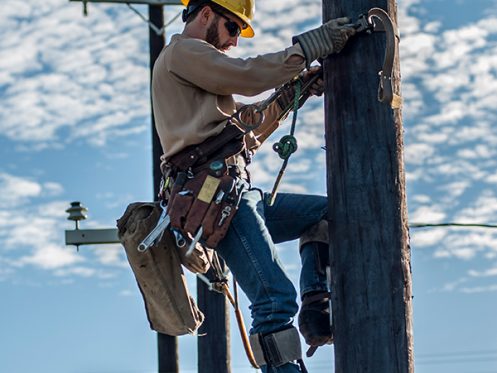 In September's edition of The GVEC Review, we talked about GVEC's apprentice electrician program. Gaining some insight into electrician apprenticeship, we thought our members and customers may be wondering what steps are necessary to go on to become a journeyman and then a master electrician in Texas and the differences between each level of expertise.
Apprentice Electricians
Apprentice electricians can enter into an apprenticeship program through a trade school or an employer, like GVEC, who offers an on-the-job program. Their duties include working under a licensed journeyman and helping to install and repair a large array of electrical systems. They learn necessary safety practices, protocols and codes. Apprentices should become well rounded in their knowledge of electrical services through their training. In Texas, any person over the age of 16 can request the state to issue an apprentice license by submitting the correct form.
Journeyman Electricians
After completing apprenticeship, it takes apprentices approximately 4 years (8,000 working hours) working under a master electrician to become eligible to test for journeyman certification. After reaching 7,000 hours of on-the-job training, a person is allowed to take the journeyman exam. However, the last 1,000 hours must be obtained before a journeyman license is issued by the Texas Department of Licensing and Regulation.
Master Electricians
"Master" is the highest level of professional electrician certification. Once a journeyman license is obtained, at least two additional years including 4,000 hours of work experience is required to test for a master electrician license. Master electricians have an extensive knowledge of the National Electric Code and are qualified to train and supervise journeyman electricians in addition to overseeing electrical project management.
Continuing Education
Beyond on-the-job training, continuing education is crucial to staying up-to-date on subject matter such as the National Electrical Code, Texas Administrative Code and electrical safety, including changes made to these codes and new electrical technology that comes along. Journeyman and master electricians must complete at least four hours of continuing education to renew their licenses annually.
Take Comfort In Hiring GVEC
You can depend on licensed GVEC electricians for residential and commercial services—including interior and exterior lighting installation, new electrical wiring or upgrades, electrical inspections, solar panel and batter storage installation, whole home surge protection, and more. In addition to hiring a local company with a reputation for delivering stellar customer service, you can also take comfort in knowing you're trusting your electrical work to aptly educated, highly skilled professionals. To find out more about GVEC electrician services, call us at 833.260.9029 or visit gvecELECTRICIANservice.com.