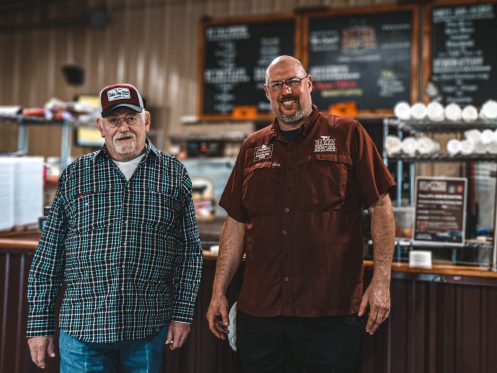 It's 5:30 a.m., and the sun isn't up, but Wayne Baker is. He's checking briskets that have been smoking all night and starting fires for the rest of the day's cook at Baker Boys BBQ in Gonzales. His dad, Phil, will arrive shortly. He'll begin casing the family-recipe sausage, made in-house daily.
And so begins another great day of Texas barbecue in the saturated meat-market of local joints in our South Central region. This brings a task that goes beyond cooking the day's meats and side dishes for the pair of pitmasters: standing out among the crowd—a task the duo has managed to accomplish pretty well since Baker Boys was opened for business in 2015.
History and Hobby Stoke the Fire
Barbecue was not the first career for either half of this successful father-son team. Phil's primary occupation before mastering meats was in the oil and gas industry. Wayne graduated from Texas State University with a degree in kinesiology and coached in Victoria for several years before moving to Houston for a job in sales. Even throughout that time, however, the Bakers were perfecting their culinary craft.
Phil says his entire family had a history of cooking and barbecuing. "I learned to make sausage from my Uncle Doug [who owned Boysen's Grocery Store in Gonzales]," he recalls. "I was also a cook in the National Guard."
Wayne remembers most weekends included barbecuing to feed the family. By the time Wayne was in high school, he and Phil started entering barbecue cook-offs in the area, gaining their first tastes of savory success. At some points, the two would kick around the idea of opening up their own restaurant.
Decisions and Dedication
After Phil retired from the oil field, his focus shifted to caring for his wife, Sheilah, who'd been diagnosed with cancer. Regrettably, Sheila passed away in 2013. After that, the father and son, experiencing first hand that tomorrow isn't promised, decided to take the entrepreneurial leap of going into business for themselves.
Wayne, who'd been living in Houston, found a great commercial location in Gonzales. His wife, Erin, was supportive of not only the business plan, but also of relocating to a town much smaller than she was used to.
According to Wayne, there were a couple learning curves for him and his dad to get around in the beginning. "Neither of us had restaurant management experience, and every local market is different. We had to figure out some things as we went." Determining how much to cook each day was one of those things. "Everything is made fresh daily, so you don't want to make too much, yet you want to feed as many customers as possible." Another obstacle was finding ways to market themselves and trying to make the Baker Boys BBQ name more known.
Both Phil and Wayne advise that new 'cue entrepreneurs should understand the level of commitment needed to be successful in a field full of similar establishments. "Be ready for hard work. A regular day plus caterings can make a really long day. Doing as much of the work yourself as you can is important also," said Wayne.
Big Barbecue Recognition
Since starting their first fires eight years ago, Baker Boys has gained some pretty significant notoriety. In 2017, just two years after opening their doors, they were named in the Texas Monthly esteemed list of "Top 50 Barbecue Joints in Texas." In 2018 Wayne was a guest on the popular Tales from the Pits podcast which features "trendsetters, leaders and icons" in the Texas barbecue industry. When Texas Monthly released its quadrennial "Top 50" list in 2021, Baker Boys was featured yet again. That year the restaurant was also highlighted on an episode of "YOLO TX," a traveling show about entertainment, food and interesting places across Texas. And most recently, Baker Boys was showcased on the "Aggie Barbecue Trail" in the May/June 2022 issue of Texas Aggie magazine, featuring barbecue spots across the United States that have Aggie owners and pitmasters.
The Baker Girls
As mentioned Wayne's wife, Erin (the Aggie), was supportive of the ideas of moving to Gonzales and opening the eatery. But she plays much more than a simple support role. She takes care of the restaurant's technology needs, handles their marketing and also performs bookkeeping duties. Wayne expresses how vital she is to Baker Boys, citing, "She's like the glue that holds everything together."
But Erin isn't the only lady of importance at Baker Boys. Phil's sister, Penny, has been at the place since day one. She not only works the register and in the large dining area; she mixes the family recipe for their acclaimed "Nana Baker's" banana pudding each day. It's also notable that the majority of Baker Boys' staff, who Wayne recognizes as key to their accomplishments, is female.
Back to the Baker Boys
As the Baker Boys BBQ brand continues to build success, not only at the restaurant, but also in their venue and mobile catering services, Phil and Wayne's prayer is to remain prosperous until Wayne's sons, Ellis, 6, and Rhett, 4, are old enough to decide if they want to take over the family business. They already display an interest and take part in some of the work. "Rhett can take the sausage grinder apart and put it back together," boasts Phil. "Ellis' favorite thing to do is season the brisket," says Wayne.
So next time you find yourself traveling through the GVEC service area and have a hankering for some renowned barbecue cuisine, stop in at Baker Boys BBQ. Order some of the regular customer favorites like the brisket and turkey. Or choose one of the pitmaster's primary picks. Wayne's would be the banana pudding he was raised on. Phil, on the other hand, prefers the ribs because, as he puts it, "They're just really good. I mean, there's ribs—and then there's RIBS!"