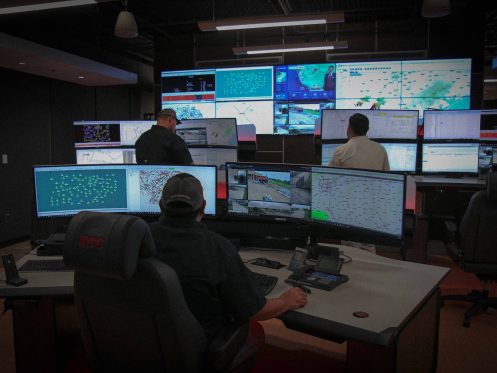 The Electric Reliability Council of Texas (ERCOT) is an independent, nonprofit system administrator that manages electricity flow across the Texas electric grid. ERCOT oversees about 90% of statewide electric load, accounting for some 26 million consumers. ERCOT, which does not generate or sell electricity, is overseen by the Public Utility Commission of Texas (PUC) and the Texas Legislature.
ERCOT, Rotating Outages and Level 3 Emergencies
When demand for electricity in Texas is high and strains the power grid, ERCOT and all electric utilities across the ERCOT region, have outlined a process for load shedding, or controlled service interruptions, to prevent a complete blackout. There are three Energy Emergency Alert (EEA) levels:
1 – Conservation Needed
2 – Conservation Critical
3 – Rotating Outages in Progress
At Level 3, the need to reduce demand has become critical. ERCOT will instruct electric providers across the state— including GVEC—to reduce demand through controlled service interruptions (also known as rotating outages). This mandatory demand reduction, known as load shedding, lasts until power reserves return to acceptable levels.
State law requires GVEC to comply with ERCOT's directive for rotating outages. As such, GVEC will begin taking electric circuits out of power as needed to shed specific amounts of load as defined by ERCOT. After one set of planned outages is complete, the circuits taken out of power will be brought back up as another is taken out. This process will continue until ERCOT lifts the emergency alert status.
GVEC members may apply for Medical Necessity status by completing a Medical Necessity Form. This form establishes the possibility of flexible account payments based on medical necessity as determined and attested to by a physician. However, it's important to note that this form relates only to delayed disconnection of service due to non-payment and does not provide an exemption from rotating (or other) outages. To obtain this form, call GVEC Customer Service at 800.223.4832 or visit any of GVEC's five Customer Service Offices. Completed forms can be emailed to info@gvec.org or returned to any GVEC Customer Service Office. An updated Medical Necessity Form must be submitted with a current physician verification every 24-months from the initial date to maintain status.
What GVEC Members Should Expect During a Load Shed Event
GVEC receives no prior notice before a Level 3 Alert and must initiate outages within minutes. We cannot pre-notify members of controlled service interruptions. Therefore, GVEC members should assume they could lose power without advance warning. Additionally, the length of a load shed event is impossible to predict and is determined by ERCOT, based on real-time power supply conditions across the grid.
GVEC will attempt to keep continuous power flowing to organizations who provide critical community support during an emergency. However, these organizations are not exempted from controlled service interruptions. Examples include hospitals, certain medical facilities, police and others.
Oil, gas and pipeline operators that provide Critical Load support to the electric system during an emergency, and approved by The Railroad Commission of Texas (RRC) (working in conjunction with ERCOT), will also receive priority. However, these organizations are also not exempted from controlled service interruptions. Organizations may apply for Critical Load status by completing RRC Form CI-D, Acknowledgement of Critical Customer/Critical Gas Supplier Designation and Form CI-X, Critical Designation Exception Application, using the RRC Online System at https://webapps.rrc.texas.gov/security/login.do. Hard copy form or email form submissions are no longer accepted. For additional information, email GVEC at criticalload@gvec.org or call 800.223.4832.
GVEC's residential members classified as needing Critical Care or as having a Medical Necessity cannot be exempted from rotating (or other) outages. GVEC strongly encourages any member who needs constant power for life-sustaining equipment to arrange for alternate power during any event in which an outage may occur.
During an ERCOT Conservation Alert or a Load Shed Event, Members Should Consider the Following Energy Saving Tips:
Set thermostats to 68 degrees in winter and 78 in summer—or as low or high as is tolerable. Each degree you raise your thermostat in summer or lower it in winter can save up to 4% on monthly heating and cooling costs.
For those with electric water heating, lower your water heater to 120 degrees or lower.
Avoid the unnecessary use of appliances, lighting and electrical equipment—especially during peak usage times from 6 to 9 a.m. and 3 to 7 p.m.
For more energy saving tips, click here.
Want more information from ERCOT? Sign up for ERCOT's Texas Advisory and Notification System (TXANS):
TXANS is ERCOT's early notification tool used in periods of higher demand. Find grid condition levels as well as other information and sign up for alerts at TXANS (ercot.com).
GVEC works year-round to be ready to respond as quickly as possible in the event of any type of service interruption. Cooperative members can rest assured knowing we're on the job 24/7, 365 days a year. To stay up-to-date on Cooperative alerts, follow us on Facebook, Ex (formerly known as Twitter), Instagram (@GVECsocial) or LinkedIn (GVEC), and periodically check back here at our website.