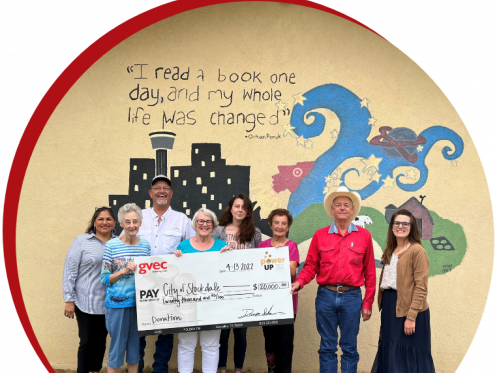 If you ask those who donate their time, talents and skills the reason they volunteer in their communities, the answers may vary. Some might say because they have a genuine passion toward the cause they're furthering. Some may stress their belief in giving back to strengthen the community they're part of. Some will tell you they've been on the receiving end of a volunteer program before, and now they have a desire to pay it forward. Whatever the primary reason, most will agree community volunteering is just as beneficial to themselves as well as to others. It's a good thing for all.
How Do You Become a Community Volunteer?
There's no doubt, helping others makes a positive difference for all involved—givers and receivers. Becoming a community volunteer offers a way to join with others to create a positive impact on a larger scale. But where do you start?
The answer to that question is a question, or few questions, rather. Start by finding out or asking yourself: What volunteer or nonprofit organizations are in my community? What do I care about or have interests in? Do I possess any valuable talents or skills that would benefit specific types of organizations or boards? How much time do I have to donate? Once you establish the answers to these questions, simply start reaching out to organizations to ask more detailed questions about what they do or to ask how to become involved.
If after asking and answering those questions still leaves you hunting to help, don't fret. We've got some suggestions.
Common Community Volunteer Opportunities
There are certain civic, social and youth organizations which rely on the help of volunteers that many towns in our area of South Centra Texas have in common. Example of these include community libraries, chambers of commerce, main street committees, volunteer fire departments, Lions Clubs, Rotary organizations, Little League® and school booster clubs, to name a few.
Of course, towns also have organizations unique to their communities. We've compiled a small local listing of links that might inspire your call to serve.
Cuero
Hallettsville
Hallettsville
Gonzales
Seguin
La Vernia
Schertz/Cibolo
New Braunfels
GVEC Might Be Able To Help the Organizations You Help
Whether you're just getting your feet wet in the community volunteering pool or you're a seasoned societal server, be sure the organizations you help out with know about the GVEC Power Up™ grant!
The Power Up program puts GVEC members' generosity to good use. Eighty percent of funds are allocated for grants to local nonprofit and civic organizations for community development or improvement projects. The other 20% is distributed through local Councils of Government (COG) for GVEC bill pay assistance.
Power Up grants are awarded twice each year. For details on grant project qualifications, or to apply for a grant, visit our Power Up page.