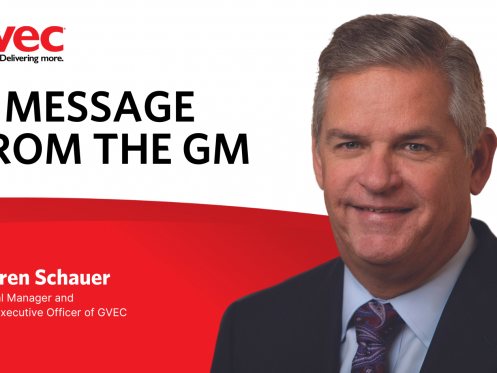 2023 marks GVEC Fiber's 10th year, and I'm delighted to report that the Cooperative's venture into fiber internet delivery has been a success. In Fiber's first year, we laid 90 miles of fiber-optic cable, capable of delivering internet to 3,000 homes and businesses. Around 900 subscribers signed up that first year. As you'll read, we've covered a lot of miles in the decade since, added thousands of subscribers and built a robust fiber network that positions us to effectively meet the explosive need for fast, dependable connectivity our growing region will experience in the years ahead.
GVEC Fiber by the Numbers
By the end of 2022, our subscriber number had ballooned to over 14,000, and the total cumulative number of fiber miles built across Cooperative infrastructure was 1,783. We laid 216 of those miles in 2022, enabling us to build 4,461 new service passings. We constructed these passings into areas of Cibolo, Seguin and Shiner, and along areas of FM 123 between Seguin and Stockdale. We also extended fiber infrastructure into Cibolo Ridge subdivision, which lies south of La Vernia. Additionally, we built over 100 smaller, fiber-based extensions for new, individual GVEC members. All told, nearly 2,500 homes and businesses initiated GVEC Fiber Internet service in 2022.
Looking Ahead to 2023
We're planning 200-250 new fiber miles this year, with an additional 6,700 new passings created. Areas targeted for buildout include eastern parts of Seguin to Kingsbury, areas east of Capote along Highway 90A, northern parts of Cost up to Highway 183 and Hochheim. We'll also be laying fiber cable at Homeplace subdivision on FM 3432 and Ranch Country Road. And we're planning new-member extensions at new subdivisions in Cibolo, Marion, New Braunfels, Geronimo and Seguin. These new-member extensions, part of a policy we've begun implementing in the last few years, are especially notable. They enable us to automatically extend fiber infrastructure into new homes built within our electric service territory where GVEC Fiber already has a significant presence. This assures residents of immediate access to the world's fastest, most reliable internet technology upon move in.
Find Out if GVEC Fiber's Available at Your House
Visit our service availability map at gvec.net to determine if Fiber's available where you live. If not, I encourage you to consider GVEC Wireless Internet, which is also expanding and offers the best possible online experience wireless technology can deliver. For more information on GVEC Fiber or Wireless Internet, visit gvec.net or call 800.699.4832.
I am always interested in your comments and feedback. Contact me by phone at 830.857.1152, by email at dschauer@gvec.org or by mail at P.O. Box 118, Gonzales, Texas 78629.