Current disruptions and delays in the global supply chain are contributing not only to inflation, but also to slowdowns, bottlenecks and delays in certain areas of our cooperative services. These difficulties are affecting nearly every company across every economic sector, and GVEC is feeling the impact, too.
As a cooperative focused on quality services, we want our customers to know that we're working diligently on solutions to delays wherever possible. Part of that commitment is keeping you informed with information that can potentially impact our level of service to you.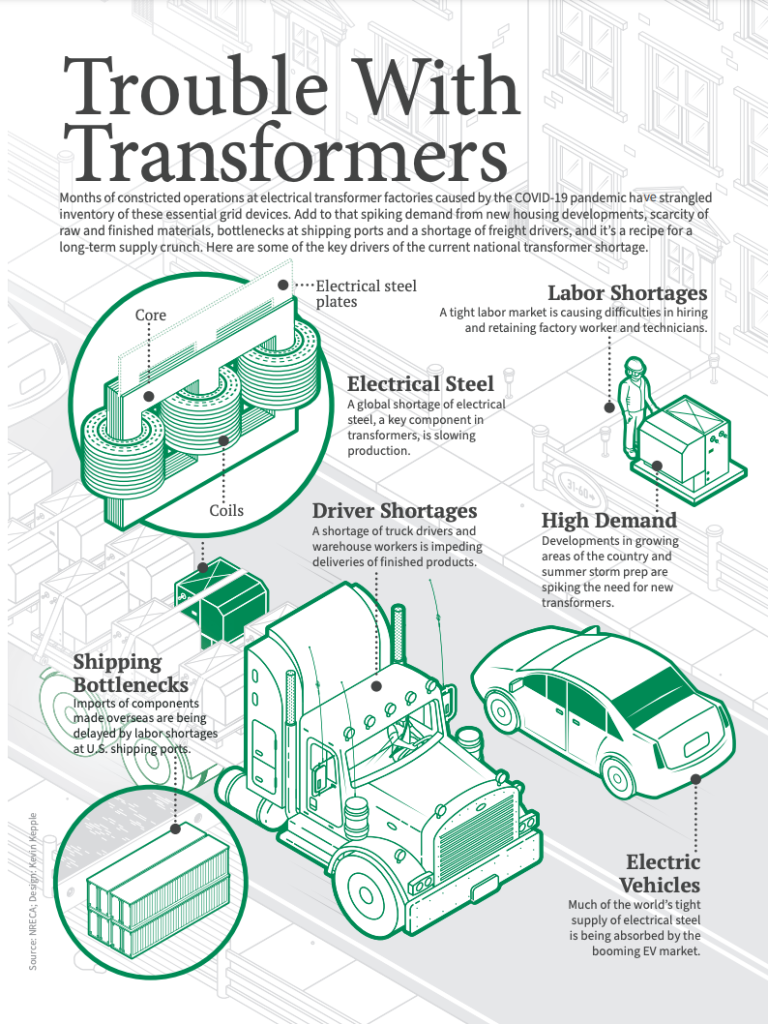 Commercial and Residential Electric Service
♦     In regard to new electric construction, transformers are currently experiencing the longest delays in delivery. These lead times have continued to grow and cause significant delays in completion of projects. Other stock items now may not be readily available at any given time. Material delays and shortages for items such as distribution wire, secondary pedestals, and other necessary components have impacted our work.
♦     The situation is extremely fluid, however, and changes week-to-week. As one component may come available, another may then be delayed. Arrival times for such materials have previously been estimated in days or weeks. In the current environment, months-long delays are common. These difficulties are affecting project start and completion dates, as well as interim construction schedules.
♦     Whether there's a delay on the residential construction side or the commercial side, GVEC is working daily with Texas Electric Cooperatives (TEC), our supply chain partner, to source needed materials as efficiently, economically and quickly as possible.
♦     To help facilitate your project's success, we ask that you coordinate with the Cooperative for any associated easements, fees and electrical requirements during the early stages of engineering and planning to better assist with material procurement during the current supply chain limitations.
Residential and Commercial HVAC Services
♦     We have expanded our list of suppliers and manufacturers to mitigate delays to parts needed for AC/heating repairs and new system installations.
GVEC Internet
♦     To date, materials shortages have caused no delays in installation of service for GVEC Internet subscribers. As with our HVAC business, we're continuously working with existing equipment vendors, acquiring new suppliers when necessary and purchasing alternant but comparable equipment to prevent install delays.
♦     On the internet construction side, material "commodities" shortages have caused some delays. Our partnership with TEC has greatly helped, though, and to date, our overall internet buildout plan across South Central Texas has not been affected.
We will update this information as things progress. Please rest assured that we are always working to deliver exceptional, competitively priced products and services in as timely a manner as possible. Thank you for your patience. Questions? Please feel free to contact us at 800.223.4832 or info@gvec.org.