During the Holidays and Throughout the Year
We may be a little bit biased, but we believe GVEC has some of the best employees around. Yes, they give their all each working day for our members and customers, but many give so much beyond the scope of their job duties and outside of the office as well. This is especially true during the holiday season.
Santa's Helpers
If you've been inside a one of the lobbies of any of our five customer service offices during the first couple weeks of December, you've likely imagined that Santa made an early stop. This is because you'll see a child's Christmas dreamland with tons of toys surrounding the tree. However, these aren't gifts Santa has delivered to GVEC. They are toys bought and donated by our employees who wish to help ensure Santa has plenty of gifts to give to children in our communities through Blue Santa, Deputy Santa, Sheriff Santa and Silent Santa programs.
Beyond donating toys, some GVEC staff contribute their time to these programs as well. They volunteer to assist the wrapping the many items these organizations collect each year. Some employees have even helped Santa make deliveries to the families these programs support.
Carol of the Bells
Some employees enjoy donating their time as bell ringers for the Salvation Army. Community Relations Representative Kasie Tankersley has done so and also organized signing up fellow GVEC employees who  wish to participate in this seasonal service. When asked why she thought this was an important task, Tankersley answered, "I saw it as a great way to get in the Christmas spirit and give back to the community—especially during the holiday season, and I thought it would be fun to get other GVEC employees to volunteer as well."
More Cheerful Acts of Charity
In addition to these annual acts of generosity, GVEC employees also support many other other opportunities for holiday giving that arise. Examples of these include nonperishable and canned food drives for local food pantries or attending Christmas fundraisers that raise money for community nonprofit organizations—like the Ugly Christmas Sweater Dinner Party that benefits the Guadalupe County Child Welfare Board Supporters.
What Gives?
So why are GVEC employees so inclined to give back? And why does GVEC believe in encouraging its staff to do so? According to Human Resources Representative Shari Johnson, it's based on the foundation of GVEC.
"GVEC was GVEC was founded by individuals that banded together for a common purpose of serving people. The employees at GVEC today continue to embrace that purpose," said Johnson. "One of our Corporate Values is Good Corporate Citizenship."
Johnson goes on to point out, "It's true that the more invested a person is in their community, the more pride they will have to live and work there." This rationale explains GVEC's enthusiasm for delivering opportunities for employees to give back.
Keeping the Christmas Spirit the Whole Year Through
It's important to recognize that GVEC employees' generous spirits don't only begin and end with the holiday season each year. Other worthy projects they volunteer their time and services to include prepping, cooking and serving food at events like the Hot Shots Fish Fry fundraiser for the La Vernia Chamber of Commerce or the Gonzales County Stock Show Buyer's BBQ. Neighborhood cleanups and Habitat for Humanity building projects are also examples of causes certain staff feel called toward.
Additionally, there are many employees who volunteer their efforts individually, outside the office. This includes being involved in various community organizations, youth programs, ministerial projects, as well as municipal and educational boards and councils.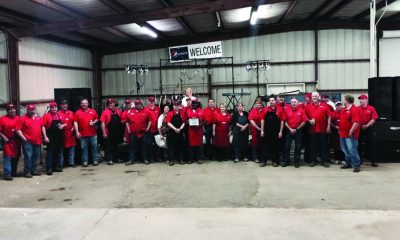 Receiving Through Giving
There are some people in the world who thrive on helping others. They feel an innate responsibility to be a part of something bigger than themselves and to extend a helping hand those in need. They're people who know the importance of kindness and love and believe in acting for the sake of service—not for acknowledgement or reward. They recognize there's no monetary compensation that could equate to the fulfillment and gratification they experience by serving others.
GVEC is very please and thankful to have so many of these remarkable people working each day to deliver more for our members.