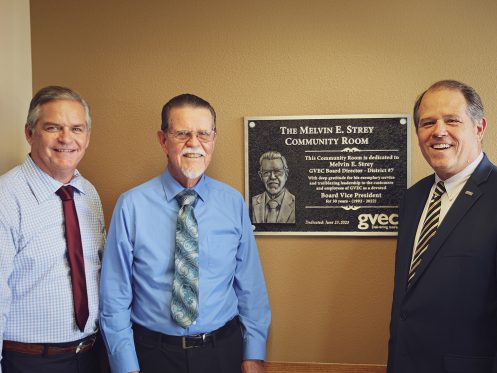 Gonzales Texas – August 25, 2023 – On August 24, 2023, the GVEC Community Room, located within the La Vernia Customer Service Office, was newly recognized as the Melvin E. Strey Community room in honor of Strey's 30 years of service as the GVEC Board Vice President. GVEC leadership and employees, local community leaders, and friends and family of Melvin Strey gathered for a reception to formally dedicate the well-known complimentary meeting space for non-profit organizations serving the La Vernia area.
Strey was first elected as District 7 Director in 1977 and became Board Vice President in 1992. He stepped down from his leadership position in July 2022 while maintaining his position as district director. 2023 marks Strey's 46th year on the GVEC Board of Directors.
GVEC Board President Gary Birdwell remarked the words on the newly displayed plaque outside the room say it well, "It is with deep gratitude for his exemplary service and trailblazing leadership to the customers and employees of GVEC that we truly honor and thank Melvin for his 30-years of leadership." GVEC General Manager and CEO supported that statement commenting, "I have come to know and appreciate Melvin for his keen eye for detail and dependability for delivering prudent, steady advice. We're thankful he's not done yet and will continue to share his wisdom and deep-rooted concern for community with GVEC.