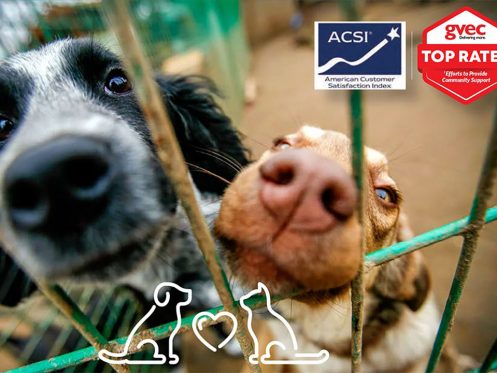 Someone once said, "Saving one animal won't change the world, but it will change the world for that one animal." In that spirit, GVEC supports South Central Texas animal shelters. The Cooperative delivered donations for five local animal shelters in 2022 as part of a successful social media campaign to raise awareness regarding homeless animals across our service territory. We pledged $5 donations to one of five local, "no-kill" shelters for every friend added to our Twitter, Instagram and Facebook pages (@GVECsocial). Each of these nonprofit shelters works to rehabilitate and socialize new animals to whatever extent necessary to make them adoptable. Thanks to this campaign, we not only made new friends, but also opened a new world of happiness for a handful of local animals. We're thrilled to share some of their stories and proud to say that GVEC supports South Central Texas animal shelters.
Wilson County No Kill Animal Shelter
Wilson County No Kill Animal Shelter staff were proudly on hand for GVEC's check presentation as were a handful (or armful) of the shelter's cuddly critters. GVEC Social Media Specialist Shelby Mueller, who developed and coordinated the promotion, got in on the fun, too, with a pup in her arms and a celebratory smile for the campaign's positive impact across local animal shelters.
Guadalupe County Humane Society
GCHS receives no Government funding. Community donations like GVEC's are extremely important in helping the shelter rescue and rehabilitate animals that might otherwise be discarded. GCHS is proud of its 98% adoption rate and its low-cost spay and neuter program. When possible, GCHS also rescues dogs from the Guadalupe County facility when their time has run out.
Pet Adoptions of Cuero
This loveable "Heinz 57" dog is a mix of many large breeds and was rescued from a kill shelter. He was probably a hog-hunting dog but was injured and now lacks most of the side of his upper cheek. He's a little sloppy at meals and certainly not PAOC's prettiest dog, but he's extremely loving, lovable and adoptable. Thanks to donations like GVEC's, PAOC can provide desperately needed medical treatment and rehab for dogs like Cody.
---
Friends of Gonzales Animal Shelter

These three snuggleable kitten sisters came to FOGAS from a farm, only partially socialized, when the cats-only shelter rescued them at around eight months old. GVEC's donation contributed to getting them spayed, vaccinated, dewormed, deflead and socialized. They now spend their days on a large ranch, adopted as a sibling-kitty family, running inside and out as desired, hunting, and being loved by a human family.

Gonzales Dog Adoptions
GVEC's donation to GDA helped find homes for two dogs, but both were unavailable for this article. The shelter instead shared the stories of Buddy, a Catahoula mix, and Bruiser, a miniature mix. Both were adopted in spring 2022, having arrived at the shelter emaciated and infested with heartworms, a condition GDA staff described as "expensive to treat." Both dogs proved worth the fuss, though, and are each living happy, healthy lives with loving families. These dogs are prime examples of the kind of animals that donations like GVEC's enable the shelter to rescue and rehabilitate.