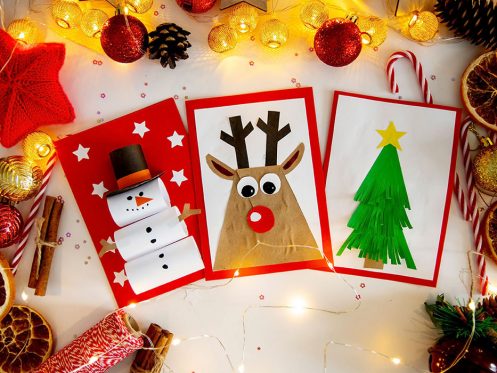 Handmade Christmas cards have become extremely popular in recent years. If you've never designed and created your own, you may be surprised—even overwhelmed—by the number of options for crafting individualized, creative holiday greetings.
Kits for Making Handmade Christmas Cards
For beginners, people on a budget or those with limited time, a greeting card kit may be the best choice. A kit can also be great for parents wanting to create something fun, magical and heartfelt with young children. Card kits come in numerous varieties and are packaged with specific themes, color schemes, styles and premade designs. They vary in complexity, with each kit oriented toward a specific age level. Each also generally contains any materials needed to create personalized cards right out of the box. Such materials can include precut shapes and designs, card paper, envelopes, glue, ink, tape, stickers, glitter, and more. Kits are generally more limiting compared to using separately purchased components; however, they also tend to be more cost-effective.
The Primary Tools to Get Started
Some of the most common tools of piece-by-piece Christmas card building include embossing machines and cutting dies; card stock (350 gms or 110-120 lb. weight is a good starting point); decorative tape (e.g., Washi, Gem, etc.); felt fabric sheets; tissue paper; scissors; ink; twine and string; glue; decorative ribbon; and rubber crafting stamps.
For the most serious homemade card makers, rubber stamps are essential. Stamps come in an endless assortment of shapes and sizes, including cartoon characters, flowers, birds, insects, animals, snowflakes, Santa Claus, trees, snowmen, elves, wreaths, plants, religious symbols and much more. Rubber stamping types generally include wood mounted, cling and clear. After pressing a stamp onto an ink pad and pressing its shape onto stock paper, you can build a Christmas card directly around the image. Alternatively, you can cut the shape out and use it as a raised element in your card design, creating a 3D effect, or even as the basis of a pop-out or pullout card.
Embossing machines come in electrical or hand-crank manual versions. They create cutouts through use of metallic diecasts. These dies come in a huge variety of types and shapes, including—to name a few—snowflakes, animals, trees, plants, wreaths, candles, ornaments, toys, insects, elves, Christmas lights, Santa Claus, religious symbols, snowmen and more. To create an embossed cutout, you sandwich the paper and
die between two plates, lay them on the entry side and feed through the embosser. The machine presses the die cleanly through the paper, producing a perfectly proportioned cutout on the other side. Embossing machines are better suited for creating more complex, precise cutouts compared to stamped images.
We've offered some examples here, but there's not nearly enough space to cover all the options homemade cards offer in terms of color, ink types, shapes, sizes, paper types, patterns, design elements, decorations, font types, stenciling and more. We further suggest an internet search of " handmade Christmas cards " or something similar to uncover additional resources.