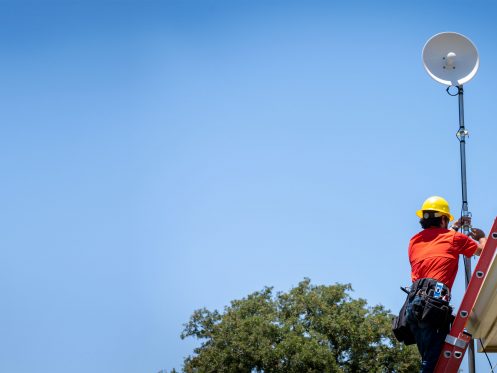 As we move further into spring, we often find ourselves spending more time outside. It's a great opportunity to enjoy time with family as the weather warms up and the days become longer—especially if you have an inviting outdoor recreation space.
Back Yard Entertaining
When you think about back yard entertainment, you may think of swings, swimming pools, barbecue grills and picnic tables. But in recent years, family outdoor entertaining has evolved. Many patio spaces have almost become outside living and dining rooms, complete with TV screens, speakers and even "smart" devices for grilling and yard maintenance.
Extending indoor living space to the outside often means a Wi-Fi signal that must extend that far as well. However, some residential router signals aren't strong enough to penetrate through walls to the exterior of your home, and if they do, not very far past. If this is a problem limiting you from creating and connecting your dream backyard space, GVEC's Home Wi-Fi Optimization may be the answer.
Mesh Networks
Mesh networks operate much as the name implies. They create a network from your router to separate pods strategically placed in your home. Each pod acts as its own mini-router, with the capacity to receive the primary router's incoming home Wi-Fi signal, process it and retransmit a high-quality signal into low-coverage areas—including outside.
If you're a GVEC Internet customer, we can customize an affordable mesh network that's suitable for your home coverage specifications. Instead of purchasing a system that can cost hundreds of dollars and consist of extra equipment you may not actually need, renting mesh network equipment from GVEC only costs $2 per pod, per month. You can install up to four pods, depending on your high-speed internet connection needs.
Enjoy More While Outdoors
If you're interested in learning more about how Home Wi-Fi Optimization from GVEC can help your wireless signal reach beyond your home's interior, or even to parts of your home where service seems weak inside, give us a call at 800.699.4832 today. Our representatives can answer any questions and walk you through the process to install the right system for you.