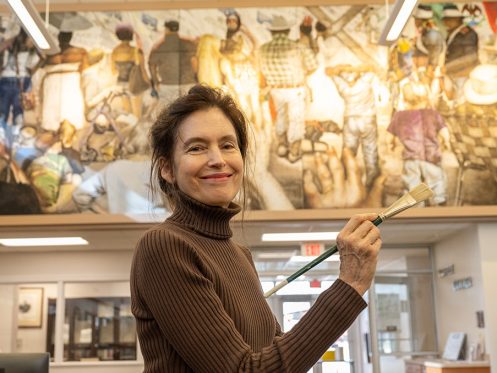 Lifelong artist Ida McGarity woke up one morning in 2014 with a specific vision. It was like a supernatural event," she recalls. "The moment I woke up, I knew I had to do a mural for a new library. In a flash, I knew exactly what I wanted to paint and how it would work out." At the time, though, there was no "new" library in Gonzales and none planned.
Remarkably, not long after, the library Board of Directors began serious discussions about acquiring a new building. McGarity, herself a Board member, enthusiastically supported the project, and the Board eventually approved her suggestion to do a mural. They also ultimately procured the old Gonzales Wells Fargo building, and the process of repurposing it moved quickly thanks to a gift by Barbara Jo Brothers. (A 2017 Power Up grant for $19,646 also helped.) McGarity visited the building, consulted with project architects and viewed the wall where her mural would be placed. "When I realized the wall's measurements," she says, "I felt even more strongly I was destined for this. The mural I envisioned…it fit perfectly into the space."
The repurposed library opened July 26, 2017, but McGarity's work moved more slowly. "I was caring for my mother and father as they aged," she explains, "and homeschooling my daughter. Some months there wasn't time to paint." Upon the mural's public unveiling in 2022, the library celebrated with a "meet the artist" event. McGarity was both humbled and gratified, but saddened that neither of her parents lived to see the finished work. Her father passed in 2017, her mother in 2020. She has immortalized them, though, in the mural itself: Both are featured among a large crowd of paradegoers, backs turned as McGarity's ethereal vision of the Gonzales Come and Take It parade passes by.
Of Memory and Imagination
The mural draws inspiration from the artist's experience over the years attending the annual Gonzales Come and Take It parade. It features a cast from McGarity's imagination and memory, and from Texas history. There's also religious imagery rendered across the massive palette, which consists of 14 interlocking tiles. She describes the mural as multilevel, with its centerpiece being the parade, which features notable historical figures from Texas history. These include Antonio López de Santa Anna, the Mexican politician and general who led Mexico against the Texian rebels during the Texas Revolution. Those Texians and a host of others from the Revolution are featured, too, as are a clown, Jesus Christ, the devil, other members of McGarity's family (including husband Ralph and daughter Diana) and many more.
A Triumphal Return Home
McGarity's father's place in "Triumphal Entry Into Gonzales" (the primary title) is, perhaps, the final surreal piece of the mural's backstory. Recalls the artist, "As I cared for my father during the time I worked on the mural, he kept saying something to the effect of, 'I'm ready to go home.' That's a common sentiment among people nearing end of life, but I think it had extra meaning for him." Before the bank-turned-library occupied the land, a homestead sat there, and that's where McGarity's father grew up. He lived there until leaving for college and then World War II and never resided there fulltime again. Although the homestead's gone, to McGarity, the library remains her father's home. To her thinking, in fact, Robert Harless has, in a way, returned home for good.
Robert Lee Brothers, Jr. Memorial Library is located at 301 St. Joseph Street, Gonzales. In addition to the "Triumphal Entry Into Gonzales," the library features a number of historical exhibits related to Texas history. It also houses thousands of printed materials and electronic and other resources available for public use. For more information, call 830.672.6315 or visit gonzales.texas.gov.