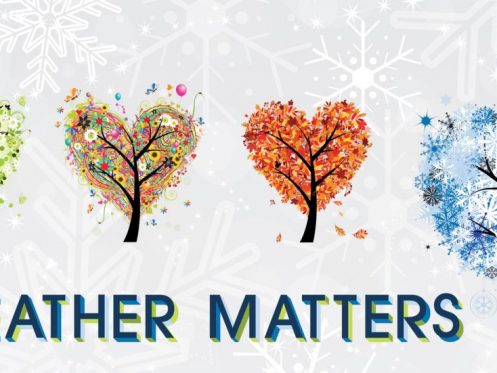 What's Driving Your Electric Bill?
What's the biggest single contributor to the cost of the average home electric bill? Any guesses?
Lighting? Not even close.
The living room TV? Nope.
Gaming consoles? Guess again.
The refrigerator, washer and dryer, dishwasher, and/or oven? Decent guesses, but still not right.
The water heater. No—but you're getting warmer. 😉
Weather and Your Electric Bill – Weather Matters!
The biggest single contributor to the cost of virtually every monthly home electric bill is the AC/heating system. If you use electricity the way most residents across our region do, heating and cooling make up around 50% of your bill. Additionally, it generally costs more to heat a home than to cool it. This is why many local residents receive their largest single bill of any given calendar year during winter. This means that weather—outside temperature to be precise—often has a more substantial impact on electricity bills than any other single factor. In short, when it comes to home electricity usage, weather matters!

In each panel above, the red digit (thermostat setting subtracted from outdoor temperature) is the number of degrees your HVAC system must heat or cool the home to hit your thermostat setting. The larger the red number, the more your AC/heating system must run to compensate for the indoor/outdoor difference, illustrating how outdoor temperature can have a pronounced impact on home electricity bills. The larger the red number, the longer your HVAC system will run, and the more the homeowner will pay in costs to run the system.
Delivering More Energy Efficiency
GVEC has been delivering electricity to homes and businesses across South Central Texas since 1938. In all those decades, we've grown deeply committed to helping our members use electricity more efficiently. We've also come to understand that the keys to successfully curbing usage—during winter or any other season—are preparation and self-monitoring.
New Self-Monitoring, Self-Adjustment Technologies
Over the last decade-plus, as new technologies and efficiency standards have taken hold, it's gotten easier for homeowners to control how they use electricity and how much they use. In August 2013, GVEC made one of these advanced self-monitoring technologies available when we debuted the SmartHub® self-service portal.
Having a higher electric bill when the outside temperature drops for a sustained period of time is to be expected. However, SmartHub lets you dig deeper, revealing how many actual kilowatt-hours (kWh) are being consumed in your home on specific days and times and what the outside temperature is during those times. The portal offers this functionality through three distinct usage gateways.
The SmartHub Usage Explorer Gateway
This gateway allows members to monitor monthly, daily and even hourly usage compared to outside temperatures. Suppose, for instance, you want to know the range of outdoor temperatures on January 29. You can view this information while also seeing your consumption levels at specific temperature points. This data can allow you to draw connections between the day's coldest temperatures and usage levels. What was your thermostat temperature set to during those times? You can compare the information from January 29 to other days in January or even to days from February and other previous month too. This can allow you to look for patterns based on day of the week, time of day and/or temperature.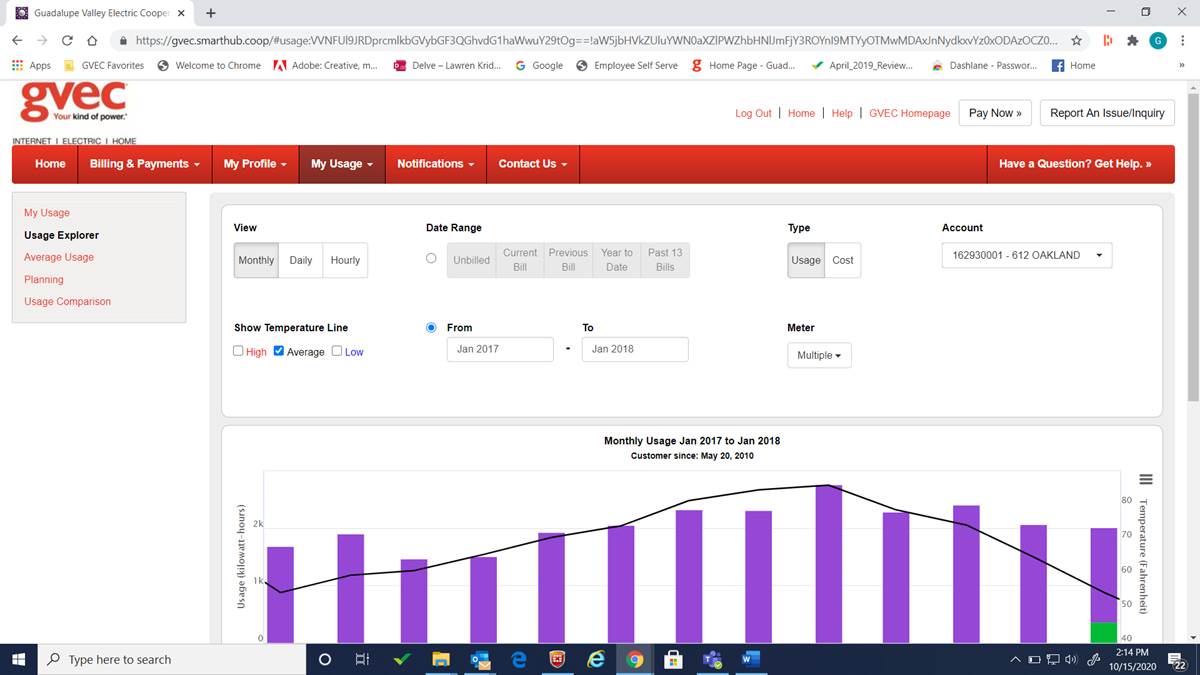 The SmartHub Usage Comparison Gateway
This feature allows you to compare any two bills across your entire usage history. If your January 2023 bill was significantly more expensive than your December 2022 bill, for instance, Usage comparison will let you evaluate usage trends between the two. Any differences might inspire you to find ways to modify your routine and conserve more.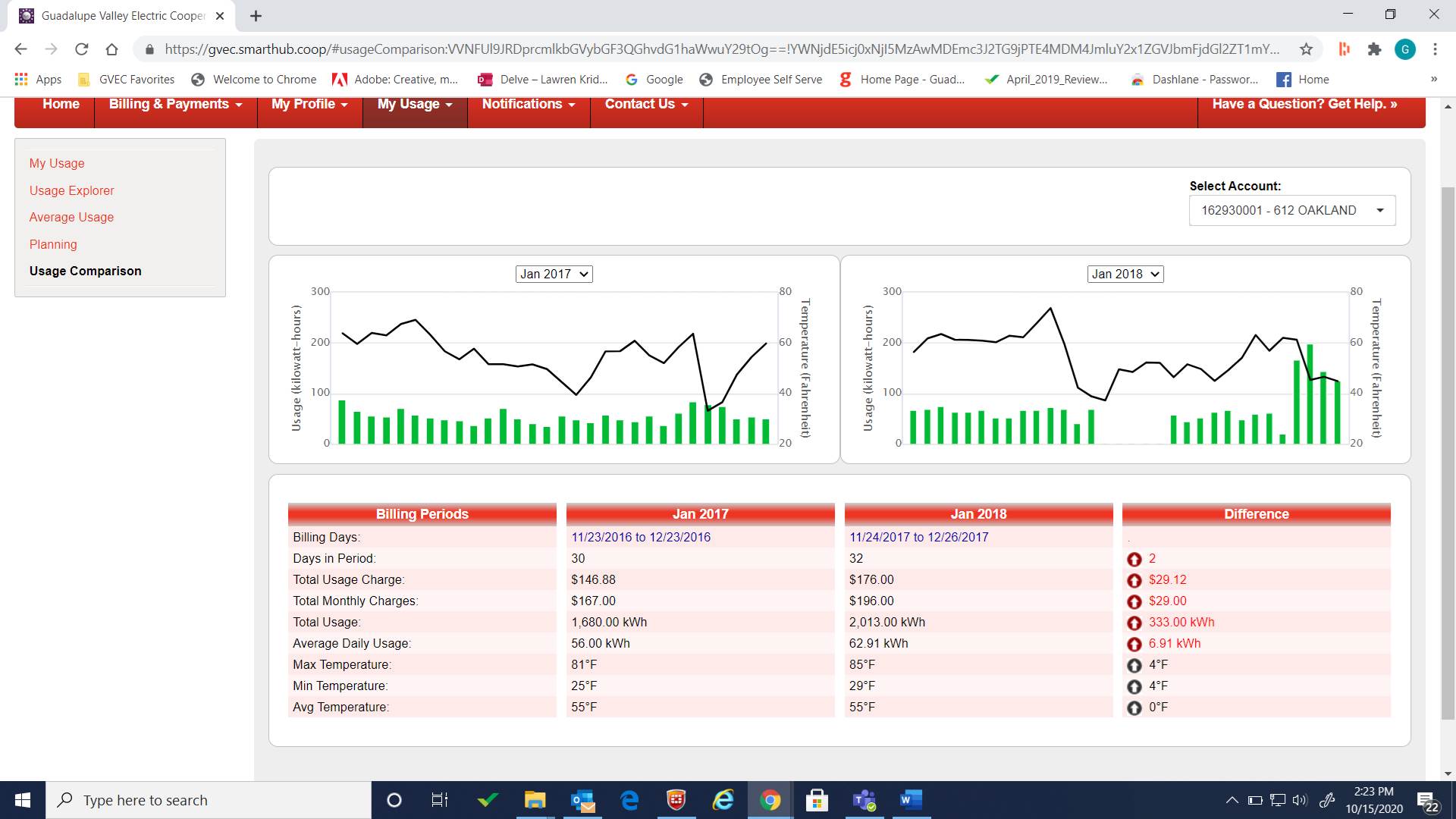 The SmartHub Average Usage Gateway
The Average Usage Gateway shows the average electricity consumed in your home for any chosen time period. Suppose, for instance, you want to know how much more (or less) electricity you use on the weekends or weekday evenings compared to other parts of the week. Average Usage can generate summaries of this data, allowing you to manage your usage more effectively during the periods in question.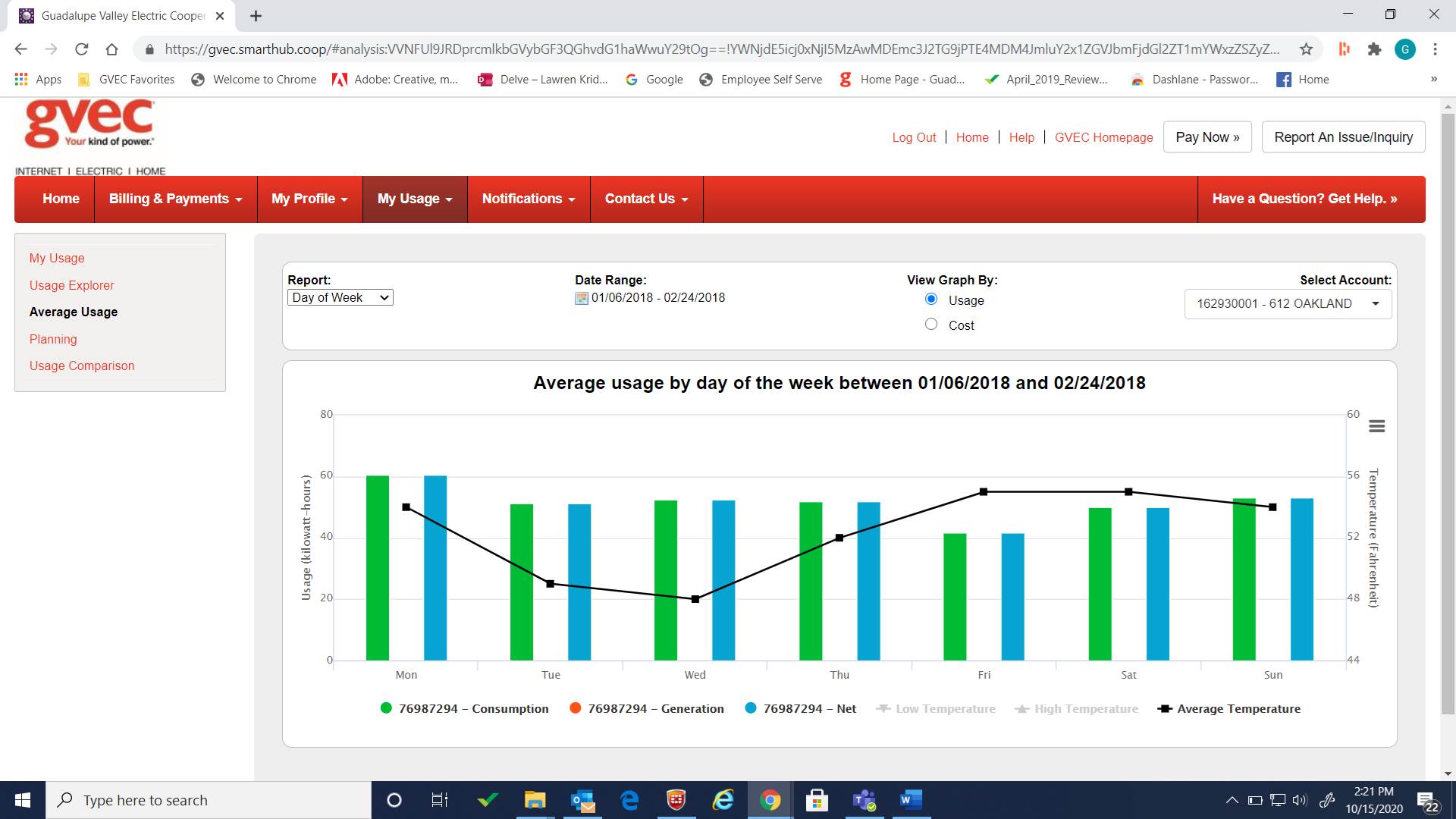 SmartHub Does a Whole Lot More
Beyond SmartHub's self-monitoring functionality, it can be used to pay monthly bills and keep your contact information with the Cooperative up to date. It also features outage reporting and access to GVEC's outage map. Members can also use the portal to set up email or text notifications for new bills or approaching payment due dates. You can also receive important Cooperative notices. SmartHub can even alert you when monthly usage hits a certain level. This can potentially provide a more precise idea of what to expect from your bill based on previous months when you might have hit that usage amount for the entire bill.
Start Using SmartHub Today!
Not set up in SmartHub? You can log in from a desktop computer using the email address and password registered to your GVEC account. Or you can download the app by searching for "SmartHub" on Google Play or The App Store. After opening the app, tap "By Name," type in "GVEC," tap "Search," and then confirm GVEC as your electric provider. Now you're all set to take greater control of your home electric bill!