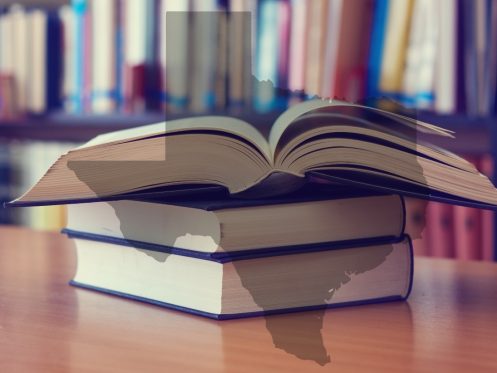 South Central Texas is deeply connected to our state's early history. Some of those connections relate to Texas's transition from a Spanish territory to a province of Mexico in 1821. Many others tie into the push for independence and the Texas Revolution. These fascinating links to the past have made our region fertile ground for writers and historians interested in telling and documenting the Texas story.
There are hundreds, possibly thousands, of books written about South Central Texas and the history of the Guadalupe Valley, making it impossible to cover them all here—or to even provide a comprehensive sample. Still, we found several that may be of interest to GVEC members and customers, or to anyone interested in history or who just loves a good story. You can purchase any of these books from Amazon, of course, but you'll also find all but one at the Seguin Public Library.
'Let There Be Light: A History of the Guadalupe Valley Electric Cooperative' (Allen H. Chessher)
Regular readers of our blog and/or The GVEC Review have likely encountered the basics of Chessher's narrative: In 1938, a group of Guadalupe Valley farmers worked together to create and launch the Guadalupe Valley Electric Cooperative. By the time of "Let There Be Light's" publication in 1964, GVEC had been a member of the community for 25 years.
Chessher expands on the story of GVEC's formation, offering insights into the people and passions that sparked an electrified revolution across the Guadalupe Valley. These determined, resourceful do-it-yourselfers were devoted to agriculture, serving others and the rural way of life; but GVEC's success in the early years was by no means guaranteed.
Chessher tells how GVEC's founders, with the support of their community, grew GVEC into a "going" concern. He talks at length about the Cooperative's early years, including its struggles and successes. Interestingly, although the technology of Chessher's era was significantly more advanced compared to the era of GVEC's founding, 1964 seems positively quaint compared to advancements to come as we move deeper into the 21st century. This aspect makes "Let There Be Light" a kind of dual-era time capsule and a must-read for anyone interested the history of the Guadalupe Valley and the rise of electricity usage here.
A Seguin Native Tells Her Family Story Against the Backdrop of Texas History
Author Janice Woods Windle grew up in Seguin, and sometime around 1983, she sat down with her mother to discuss old family recipes. Windle wanted to create a compilation of family-based culinary classics and turn it into a cookbook to present to her son as a one-of-a-kind wedding gift.
'True Women' (Janice Woods)
What started as a mother-daughter conversation about treasured family recipes progressed into a much deeper and bigger discussion of family and Texas history. Before leaving from the above-mentioned visit to her childhood home, Windle realized her family's story was provocative enough to base a historical novel on.  Published in 1993, "True Women," is centered on three generations of women from Windle's family—a maternal great-grandmother and great-great-grandmother and a fraternal great-grandmother. The book became a best-seller and the basis of a TV mini-series that aired on CBS in 1997.
If you haven't read "True Women," we strongly recommend it. Windle has crafted an involving historical saga based on the true stories of three women who were "feminists" before such a thing existed in public consciousness. Ranging in time from the Texas Revolution through World War II, Windle's narrative remains anchored, from beginning to end, right here in South Central Texas. In fact, here is "True Women's" opening sentence: "Few places on earth could be as magical to a child as where the Guadalupe River bottoms cut deep around Idella's house behind Court Street in Seguin, Texas."
'True Women Cookbook' (Janice Woods)
With the success of "True Women," the "True Women Cookbook" became almost an afterthought, but Windle never forgot about it. Published in 1997, this unique book adds layers of complexity to Windle's family story. The recipe names alone resonate with the character and flavor of family reunions, bygone times and Texas itself:
Aunt Annie's Gingerbread & Hardsauce
Texas Ranger Steak
The Reverend Andrew Jackson Potter's Hellfire & Brimstone Chili
Queen of Tukabatchee Corn Pudding
Rowdy King Boys' Chile Con Queso
Sarah Ashby McClure Braches' "Plum Good Soup"
Little Virginia's Texas Sunshine Dressing
Lucinda Sophronia Miller's Juneteenth Salad
Windle fills the pages in between with family photographs, letters and folklore, each of which connects in some way to the recipes. The "True Women Cookbook" delivers a fascinating look at Texas life, family and food from days gone by.
'Under the Live Oak Tree: A History of Seguin' (E. John Gesick Jr.)
With "Under the Live Oak Tree: A History of Seguin," author E. John Gesick Jr. has put together a comprehensive narrative of Seguin's history. He starts with a two-chapter introduction of the area before it was settled, ranging back as far as 12,000 years and ending in 1835—the year the Texas Revolution began. Although Seguin wasn't founded until after Texas gained independence from Mexico, the area nonetheless played an important role in the war, and Gesick spends an entire chapter telling that part of the story.
With chapter 4, Gesick tells the story of Seguin's founding and its role in the Republic of Texas. From there, he recounts the city's role in pushing Texas to join the South in the Civil War and the price paid for siding with the Confederacy. Gesick spends almost half the book telling the story of 20th century Seguin—its role in World Wars I and II, its infrastructure and education systems, and its recreation and festivities. He ends with Seguin in the "modern" era—from 1950 to 1988.
'Images of America: Seguin and Guadalupe County' (E. John Gesick Jr.)
With this book, Gesick works in partnership with Seguin-Guadalupe County Heritage Museum to deliver yet another comprehensive look at Seguin's history. Whereas "Under the Live Oak Tree" was a narrative with a couple small sections reserved for pictures, here the pictures are the story, opening a vivid window onto the past.
There's some overlap between "Oak Tree" and this book, but that's to be expected. "Images of America's" more visual perspective, though, compliments "Oak Tree" rather than regurgitates it. Plus, "Images of America" came 22 years after the first book, meaning more than two extra decades are covered, including Seguin's shift into the 21st century. Overall, "Images of America: Seguin and Guadalupe County" serves as a nice companion to "Under the Live Oak Tree," and the two are highly recommended for anyone interested in Seguin history or the history of the Guadalupe Valley.
'The Immortal 32' (Ann Graham Gaines)
Gonzales, Texas has deep ties to the famous Battle of the Alamo from the Texas Revolution. Of the 189 Texian defenders who died at the Alamo, almost a quarter—41—were from Gonzales. Many readers may not realize, however, that when the siege of the Alamo by Mexican forces began on Feb. 23, 1836, there were only nine Gonzales residents occupying the famous mission. The remaining 32 Gonzales defenders didn't arrive until March 1, well into the siege and only 5 days before the famous battle.
How did the other Gonzales defenders get there? What prompted them to join the siege and, ultimately, the battle that resulted in their deaths? Author Ann Graham Gaines tells the story in "The Immortal 32," and goes a step further by providing a brief biography for each of the 32 Gonzales "relief" defenders. This book is recommended for anyone interested in the Gonzales connection to the Alamo or in the individual defenders who sacrificed their lives there. It also serves as a reminder that some of the most important historical events in state history are also deeply connected to the history of the Guadalupe Valley.
'A Pictorial History of the Seguin Area' (Compiled by The Seguin Gazette-Enterprise)
This 96-page collection of vintage photos covers the 1870s up through the 1980s and was compiled by the Seguin Gazette-Enterprise (the name of the Seguin Gazette the year of the book's publication—1993). Interestingly, there's almost no overlap between the pictures printed here (some of which were loaned to the newspaper for this book) and those printed in Gesick's 127-page "Images from America: Seguin and Guadalupe County." Taken together, these two books create a wide-ranging story in imagery of Seguin history—its people, places, pastimes, misfortunes, struggles and triumphs.
'75 Years: A History of the Guadalupe Valley Electric Cooperative' (Tammy Thompson and Bill Beck)
We began our list with a book about the history of GVEC and conclude with a bookend—another work about the Cooperative and the story of electricity in the Guadalupe Valley. As with "Under the Live Oak Tree" and "Images of America," "75 Years: A History of the Guadalupe Valley Electric Cooperative" serves to compliment and update "Let There Be Light."
The time gap is larger between these two books—49 years—and they are products of different eras. "Let There Be Light" is well-written and informative, but spartan, with only four pictures and an identical number of simple charts. "75 Years," on the other hand, might be described as a "coffee table" book: It's big, glossy, slick and well-written. It includes a vibrant collection of cover-to-cover pictures that crackle on the page, bringing the story of GVEC and the history of the Guadalupe Valley to life in an engaging way.
Unfortunately, "75 Years" is the only book on our list not carried by the Seguin Public Library. However, we carry multiple copies at GVEC, and if you're interested in getting one, give us a call at 800.223.4832.