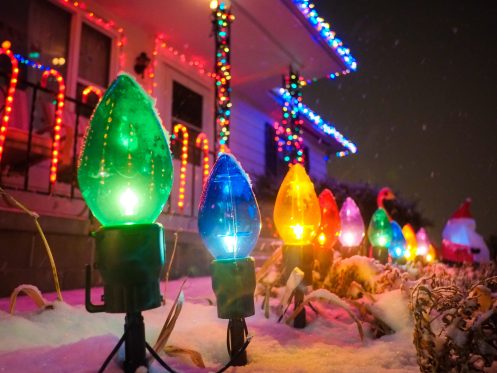 Part of the fun and festivities many families enjoy at Christmastime is decorating their homes. Your décor might include a multitude of garland and glitter, baubles and beads, stockings and snow globes, candles and candy canes, and a list of endless ornaments. No matter your taste in holiday festooning, though, we're willing to bet it includes some form of electric illumination.
Yuletide Tradition
Making spirits bright with lighting during the holiday season dates back to before electricity was even invented. Yule logs, bon fires and candles have been a mainstay in wintertime celebrations and traditions for centuries.
However, once electricity became a mainstay in most American homes, Christmas lighting became electrified as well. And this bright tradition, along with the scale of decorative electric displays, has continued to grow ever since. So, other than delivering power you need to light up the season, how can GVEC help enhance your show of Christmas cheer?
GVEC Electricians Can Provide a Creative Outlet For You!
Literally. If you're looking to step up your holiday display, or even if you're just looking to make simple decorating easier in more areas in parts of your home, the licensed, professional electricians at GVEC can help. Whether you need new exterior outlets installed to lessen the amount of extension cords strewn about, or if you need a single outlet installed in a more convenient area of your home for your Christmas tree, give us a call.
Beautify Your Exterior Aesthetic The Whole Year Through
Maybe you aren't in to hanging lights. You might prefer cute décor you can just set out in the yard. But while it looks great during the day, your existing porchlight doesn't do enough to showcase your outdoor ornaments at night. Our electricians can install exterior lighting to brighten your display during the holiday season along with providing advantages year-round—like increasing safety, security, and elevating your home's outdoor aesthetic.
Seasonal Safety
If you plug in your Christmas lights and notice flickering or humming, but you're quite certain you didn't purchase twinkling, blinking or musical strands, call the electricians at GVEC. They can check to make sure your problem isn't with your outlet or home wiring. And if it is, they can fix the issue to ensure  your household stays safe for the holidays when it comes to your home's wiring and electrical system.
May Your Days Be Merry and Bright
Remember, when it comes to electrical work, no matter how small the job may seem, it's always best to call a professional. GVEC Electricians are at your service to help make your holidays merry and bright! Call 866.648.2359, or scan the QR code to visit gvecELECTRICIANservice.com for any of your licensed electrician needs.