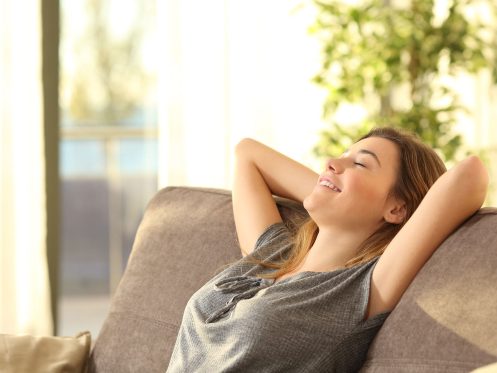 How often do you think about the indoor air quality in your home? If you're like many homeowners, the answer to that question may be, "not often." Since indoor air pollutants often aren't visible to the naked eye, it's easy to not think about them until they become a noticeable issue in your house.
Symptoms of Poor Indoor Air Quality
One reason people may not consider the quality of the air inside their home is because they're not sure what to look for to indicate a problem. However, the bottom line is all homes have pollutants in the air. In fact, according to EPA studies, levels of indoor air pollutants may be two to five times (and occasionally even more) higher than outdoor levels. So what are some things you might notice that indicate poor indoor air quality in your home?
Allergy-like symptoms (coughing, sneezing, headaches)
Frequent dust buildup, especially around air vents
Unpleasant stale, musty or moldy odors
Poor air flow
GVEC Can Help Improve Your Home's Indoor Air Quality
The AC/heating experts at GVEC also specialize in indoor air quality (IAQ) solutions. Our non-commissioned specialists can listen to your concerns and recommend IAQ products or services that specifically address your home's needs. This may include dehumidifiers, addressing ductwork or ventilation issues, or adding an air purification accessory to your HVAC system such as the Reme-Halo® or MicroPure® Total Home Active Air Purifier.
Reme-Halo
The Reme-Halo is designed to improve air quality and help reduce allergens. It uses an ionization process to neutralize odors, particulates, air pollutants, volatile organic compounds (VOCs) smoke, mold, bacteria and viruses. It's mounted inside the air handler of your HVAC system, operates in silence and requires very little maintenance. All that's needed is to change the element inside every few years as recommended by the manufacturer.
MicroPure
The MicroPure Total Home Active Air Purifier delivers patented technology developed at NASA to help greatly reduce indoor air pollution and pathogens. Like Remi-Halo, MicroPure also addresses viruses, bacteria, pollen, mold, dander, dust and VOCs. It does this through a process known as photocatalytic oxidation that creates microscopic "ionic scrubbers." These scrubbers work so well, they clean pollutants out of the air and on surfaces throughout your home also. They're so effective, the air doesn't even need to pass directly through your AC/heating system to be sanitized.
Let GVEC Help You Breathe Easier
For more information about IAQ products and services from GVEC, like Reme-Halo or MicroPure, visit gvecACservice.com or call us at 866.684.2359. We're glad to assist you in finding the perfect solution to help eliminate the worry and the pollutants to help you breathe easier in your home.