For over 100 years, the internal combustion engine (ICE) has been the dominant method for getting people from Point A to Point B. In the last decade or so, this has begun changing, and in the next five-to-20 years, the world will shift away from ICE-powered vehicles at an accelerating pace that may catch some consumers unaware. What will replace ICE as the dominant technology? Electric vehicles (EVs). Big automakers all over the world, compelled by competition, customer demand and government incentives, are working diligently to push this switchover forward.
This shift to an electric vehicle era is expected to happen quickly, too. By 2024, according to industry predictions, EVs will cost less to buy off the lot than comparable ICE vehicles, and less to own in terms of maintenance. By 2040, experts predict, half of all vehicles sold will be electric. EVs are already less costly to power. Mile for mile, the price of running a vehicle on electricity versus gasoline isn't a close comparison.
The EV Movement is Gathering Speed
At present, the number of EVs on public roadways is relatively scarce compared to the prevalence of ICE-powered vehicles. As a result, it's easy to overlook the fact that several major automakers—companies not named Tesla—offer electric vehicle models right now, albeit in still-limited numbers. Which companies? What models? With this four-part series of blogs, we're investigating these questions and offering glimpses at what's coming to local and American roadways in the near future.
In this entry, we're considering currently available models from Volkswagen Group (including Audi, Porsche and Volkswagen ) and Volvo.
This Blog is Not an Endorsement of Any Electric Vehicle or Company
GVEC generally does not do product endorsements. For this reason, none of these EVs are mentioned for the purpose of recommendation or endorsement. We instead provide this info only to inform and/or as a basis for additional research.
Volkswagen Group
Although Volkswagen only offers one all-electric vehicle for now, Volkswagen AG also owns supercar specialist Porsche, luxury automaker Audi and many others. In fact, Volkswagen AG is the world's largest carmaker by total sales, with over 9.3 million vehicles sold under the AG umbrella in 2020. All told, the company plans to launch 70 pure electric vehicle models by 2030 and to sell 1 million EVs annually across its entire brand portfolio by 2023. As with GM's EV plans, Volkswagen's ambitious blueprint could have a major impact on the world's overall shift to pure electric.
Audi e-tron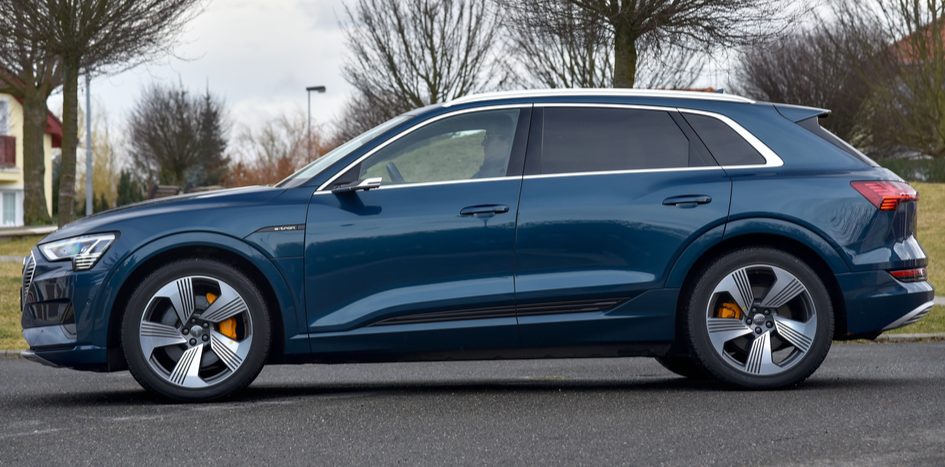 The e-tron is an upscale SUV with space for five. It boasts the sophisticated styling ques of every Audi vehicle and all the creature comforts, too; however, its pricing might seem excessive for budget-conscious buyers. Plus, this vehicle's range is disappointing at this price point.
The Audi e-tron starts at $66,995, offering an EPA-estimated 222 miles of combined city/highway range on a single charge.
Audi e-tron Sportback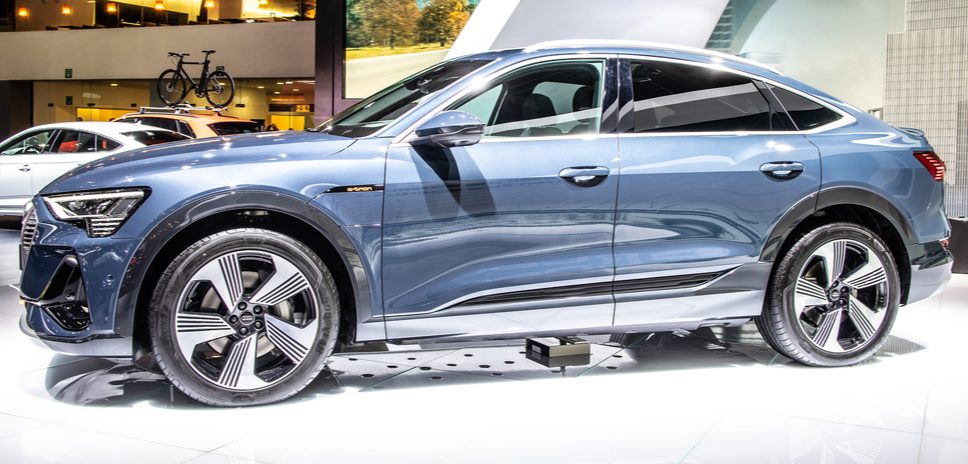 The Sportback is a sleeker crossover-like version of the e-tron that's a bit quicker than the standard model (0-60 in 5.1 seconds vs. 5.5 seconds) but is basically the same vehicle in most other respects.
The Audi e-tron Sportback starts at $66,995, offering an estimated 218 miles of combined range on a single charge.
Porsche Taycan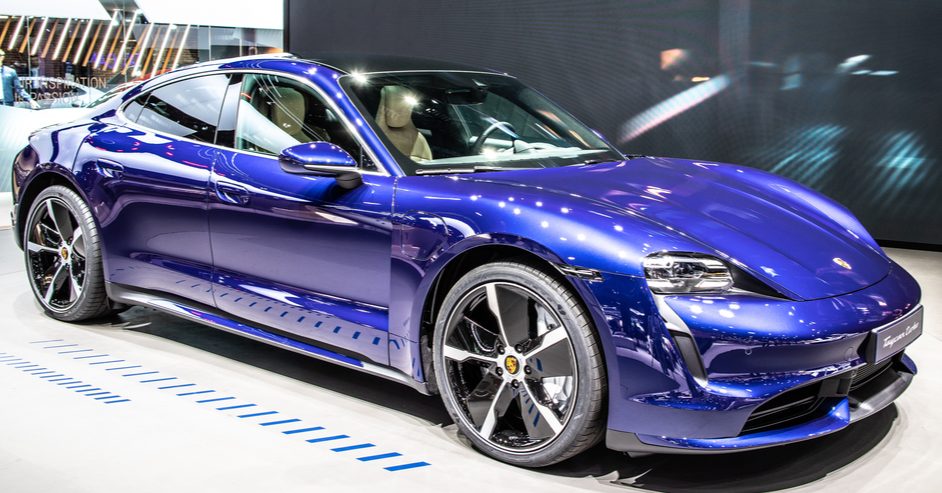 Given Porsche's sporty, high-end reputation, it will likely surprise no one that the company's Taycan roadster is the most expensive EV listed in this blog series. At over $105K for the base model, the Taycan is so expensive, in fact, it makes Tesla Model X and Model S (the next two most expensive) look almost like bargains. If you're' will to spend much money for a car, though, you'll get 522 horsepower for the base model and all the jaw-dropping sleekness and creature comfort you'd expect from a Porsche at any trim. Range, though, is disappointing for such a large investment.
The Taycan starts at $105,150, with an EPA-estimated combined range of 222 miles on a single charge.
Volkswagen ID.4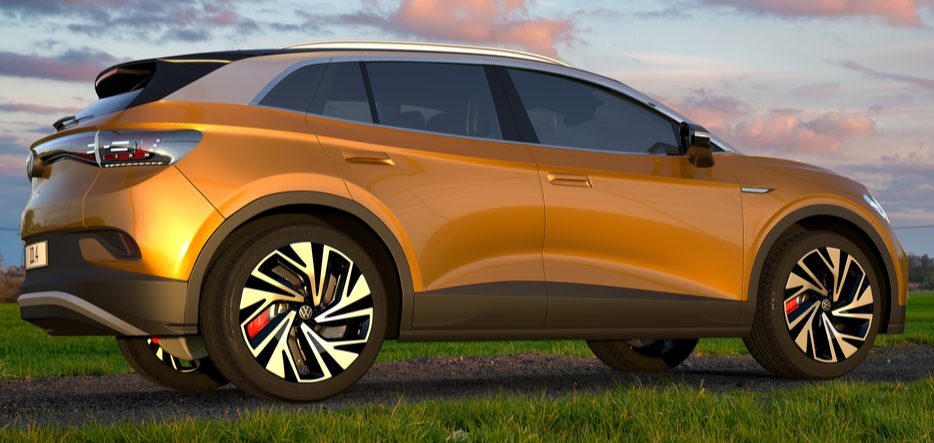 The ID.4 is a stylish SUV from a brand that many U.S. consumers still associate with the Volkswagen diesel-emissions scandal. The ID.4 is a first step in the company's drive to put that costly chapter behind it with vehicles that are emissions free. Given Volkswagen AG's ambitious EV blueprint for the next few years, it's probably a safe bet the ID.4 will soon have all-electric company in the Volkswagen brand's lineup.
ID.4 starts at $41,190 for the base model, achieving an EPA-estimated 250 miles of combined city/highway range on a single charge.
Volvo Cars
Volvo is a luxury automaker founded in Sweden with a long history. It was owned by Ford for a little over a decade before being sold to Chinese automaker Geely Holding Group in 2010. The company has announced plans to become an EV-only company by 2030.
XC40 Recharge
The Recharge is a stylish compact crossover SUV with disappointing—though not terrible—range for the price. Being a Volvo, it comes with plenty of bells and whistles to complement the elegant exterior, along with 402 horsepower and a 0-60 time of 4.7 seconds. The Recharge has family-friendly roominess, but a not-so-economical starting price.
The Recharge base model starts at $55,085 and delivers 208 miles of combined city/highway range on a single charge per EPA estimates.
The Polestar II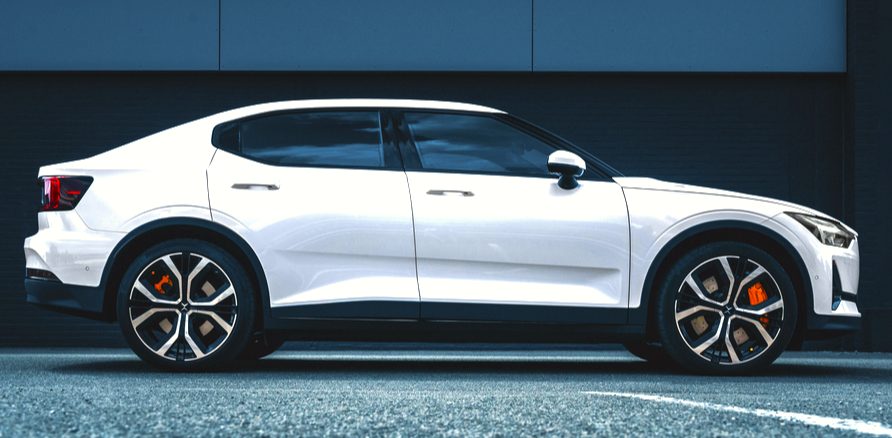 The Polestar II (built by Volvo "sub-brand" Polestar) has unique styling that's not quite crossover, not quite sedan, but decidedly un-futuristic as EVs go. This electric vehicle's interior sets it apart, though, with uncluttered functionality, roominess, a great view through the glass roof and infotainment courtesy of Google's Android Automotive Operating system. Polestar II is sprightly, too, with a 0-60 time of 4.1 seconds, but it's also pricey and the range isn't great for the money.
Polestar II's base version starts at $61,200, achieving 233 miles combined city/highway on a single charge.
The Revolution will be Electrified—From Home
Do you already own an EV? Maybe you're considering a purchase? There's one potential, transformative benefit of these vehicles you may not have considered but should: at-home "fueling." While fueling from home will never be possible with ICE vehicles, EV home charging isn't just possible, it's already happening, with many owners enjoying the life-changing benefits.
Plug Your EV Into Home with GVEC Electrician Services
GVEC is currently offering a rebate on at-home-charger installation through GVEC Electrician services. Whether you purchase the charger from us or not, the rebate is $600 or 50% off residential (whichever is less) and $3,000 or 50% off for commercial (whichever is less). Now's a great time to bring the EV "fueling" revolution into your home, and this rebate makes it easier than ever.
For more information and/or to schedule an appointment, visit gvec.org/electric/ev-rebate, or call GVEC Electrician services at 800.328.0630.