Chances are, your current vehicle is propelled by an internal combustion engine (ICE). There's a fair chance, however, that the next vehicle you purchase or consider purchasing may be based on electrification technology.
In the next five-to-20 years, the world will shift away from ICE-powered vehicles at an accelerating pace. Because ICE-powered vehicles are so dominant right now, many consumers may be caught by surprise when electric vehicles (EVs) begin costing less than ICE vehicles (in both sticker price and maintenance) and start filling roadways at comparable levels. The plans for this switchover are being made and implemented right now by major automakers all over the world, including those in the United States.
The fact that most manufacturers are joining the EV movement is predicted to cause the price of these vehicles to drop—and rapidly: By 2024, experts predict, EVs will cost less to buy and own than ICE counterparts. EVs already cost less to power than ICE vehicles. In fact, mile for mile, the cost of powering an EV, compared against that of powering an ICE, is much less expensive.
EVs are Moving Full-Charge Ahead
There still aren't many EVs on public roadways yet—not relatively speaking. ICE dominance can make it easy to overlook the limited number of EV models available for purchase right now from several major automakers—companies not named Tesla. What companies are offering these vehicles? What EV models are available right now in the U.S.? We're exploring these questions in this four-part blog series and offering glimpses at automaker EV plans for the not-too-distant future.
In this entry, we're looking at current electric vehicle models available from Hyundai, Kia and Nissan. We're also offering a brief note on two major manufacturers with a conspicuous absence from the current U.S. EV market: Honda and Toyota. 
Hyundai Motor Company
South Korea based Hyundai already offers two mass-produced all-electric vehicles in the American market—both highlighted below. The company plans to expand its offerings in the coming years, though, and projects 1 million EVs sold per year by 2025.
Hyundai Kona Electric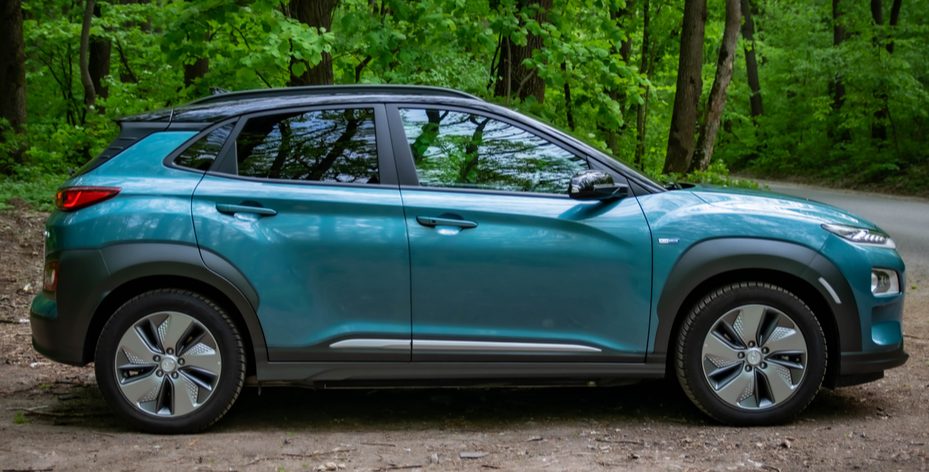 Car and Driver named Kona one of their favorite EVs, even including it on the publication's list of 2019's 10 Best Trucks and SUVs. With attractive styling, decent roominess, and pricing and range comparable to the Chevy Bolt, this subcompact SUV offers a compelling option for families.
The Kona base model starts at $38,330 and delivers 258 combined highway/city miles of EPA-estimated range.
Hyundai Ioniq Electric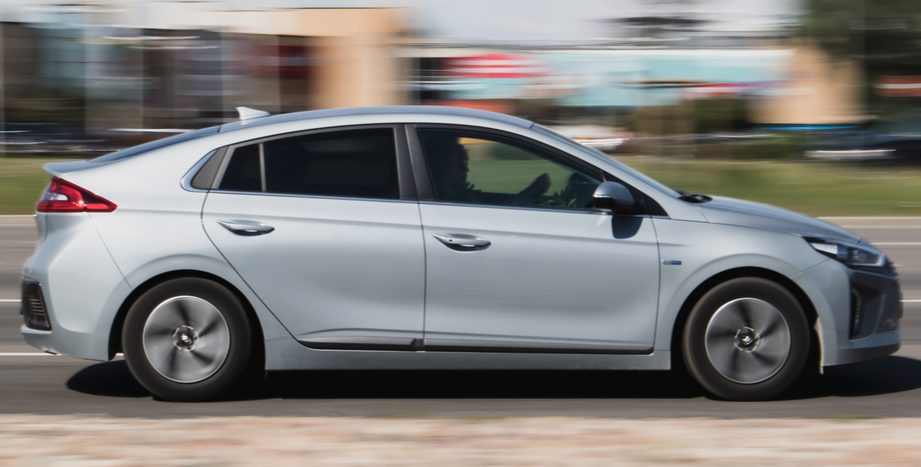 The Ioniq is a hatchback comparable in size to the Toyota Prius, so it definitely falls into the subcompact category. Its style, acceleration and range aren't overly exciting, but it's a decent offering in terms of price and roominess. It also offers a solid list of extras on the base model, including adaptive cruise control, automated emergency braking and a sizable infotainment touchscreen.
The Ioniq's base version starts at $33,245, while delivering an EPA-estimated combined 170 miles on a single charge.
Kia
South Korean carmaker Kia currently offers one fully-electric model in the United States but plans to carry a total of 11 EVs by 2026. Working in partnership with Hyundai (which owns a minority stake) to design some of these vehicles, Kia hopes to sell 1.6 million EVs annually by 2030.
Kia Niro EV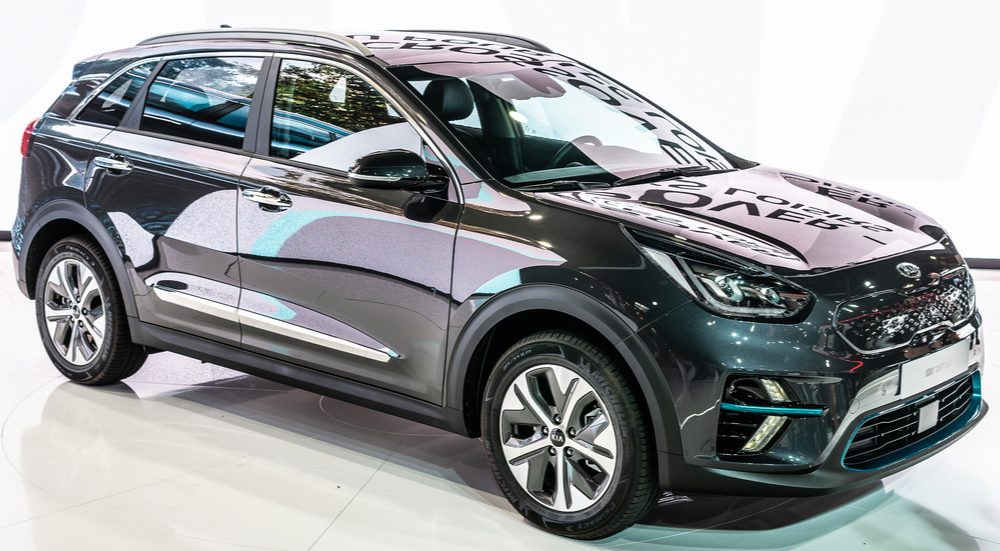 The  Kia Niro EV is available in only 12 states, but Texas is among them. This vehicle's got conservative styling suggestive of a family-oriented focus. Niro's also got the roominess generally expected of a crossover SUV, and it's powered by the same motor and battery as the Hyundai Kona.
The base model starts at $39,620, but considering the number of extras included, this trim will be suitable for many buyers. Those standard extras include adaptive cruise control, lane and blind-spot assistance, automated emergency braking, keyless entry, and a generously sized infotainment screen. Niro offers an EPA-estimated highway/city range of 239 miles on a single charge.
Nissan Motor Co., Ltd.
Nissan has been in the EV market over 10 years. Oddly, despite respectable sales for its Leaf EV (over 500,000), the company hasn't released any other pure EVs. That's about to change for the 2022 model year with the Nissan Ariya, a subcompact SUV available for preorder in late 2021. Beyond these models, though, Nissan has been surprisingly vague about long-term EV plans.
Nissan Leaf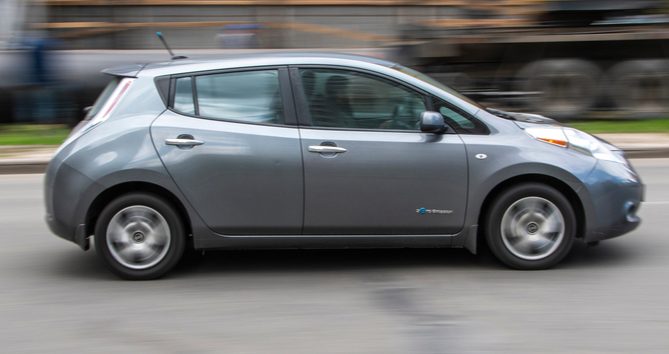 Introduced for the 2011 model year, the Nissan Leaf has been around even longer than the BMW i3 or even the Tesla Model S. The Leaf has never had head-turning looks or impressive range, but it might be a decent 4-door option for daily commuters. Nissan does offer a version with 226 miles of range, but the larger battery adds $7,000, which may send some buyers searching for other options.
The Leaf base model starts at $32,525, offering an EPA-estimated 149 miles of combined range on a single charge.
Conspicuous Absence: A Note on Honda and Toyota
We've reached the end of our list, and you may be wondering: Where are the Honda and Toyota EV models? Surprisingly, neither company currently offers a fully electric vehicle in the American market. That's about to change, though.
In fact, Honda aims for 40 percent of its global sales to be EVs by 2030 and 80 percent by 2035. The company is using GM's EV platform to design and release its first two fully electric mass-market Hondas for the American market. However, it has announced plans to take vehicle production wholly in-house before the end of the 2020s.
Toyota has announced plans for a forthcoming EV SUV—the bZ4X—being designed and built in partnership with Subaru. bZ4X will be the first of Toyota's bZ (beyond zero) line of EVs, which will produce six additional models by 2025. The Japanese automaker has another eight additional EVs in development, all of which are also planned to launch by 2025.
The Revolution will be 'Fueled' at Home
EV ownership offers a single, transformative potential benefit that some current owners and prospective buyers may not have considered but definitely should: at-home "fueling." ICE home fueling will never be possible, but charging an EV at home isn't just possible, it's already happening—yes, many EV owners already enjoy the life-changing convenience .
Charge Up at Home with the GVEC Electrician Services Install Rebate
GVEC's current home-charger-installation rebate makes now a great time for EV owners to join the home-"fueling" revolution. That rebate is $600 or 50% off residential installation (whichever is less) and $3,000 or 50% off commercial installation (whichever is less). And you don't need to buy your charger from GVEC to qualify.
For more information and/or to schedule an appointment, visit gvec.org/electric/ev-rebate, or call GVEC Electrician services at 800.328.0630.