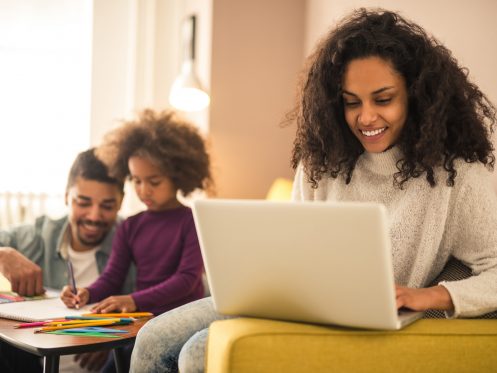 It's sometimes hard to remember life before social media. These platforms connect us with customers in ways not previously possible, making life safer and more efficient, informed and convenient—and yes, more fun, too. This month, we're "sharing" some  highlights from the last year or so of GVEC social media. If you're not following us on Facebook, Instagram, Twitter, or LinkedIn, here's a sampling of what you're missing. We hope you might even be inspired to log on and "hit us up" on the pages of GVEC social media.
GVEC Products and Services
Although electricity remains our core service, we've grown over time to offer a range of related services. Social media offers the perfect medium to tell the communities we serve about these additional options, including AC/heating sales, maintenance and repair, and renewable energy services. We're also proud to highlight our electrician services on GVEC social media pages, along with our smart thermostats, residential electric vehicle charging stations, SunHub™ Community Solar program, GVEC extreme-speed Fiber and more.
Blog Links
Read monthly articles from The GVEC Review plus additional original content designed to inform and entertain. We host a range of interesting blogs every month at GVEC websites and are proud to highlight and promote them on GVEC social media.
News and Announcements
We think it's critical for members to be aware of developments in their communities that affect them and their Cooperative. On GVEC social media pages, you can find information related to severe weather, scams being attempted in the Cooperative's service territory, upcoming events at GVEC and local organizations, and much more.
Fun Videos and Photos
We keep GVEC social media feeds updated with fun, family friendly videos and pictures. For instance, in August and September 2020, we did "Talk About it Tuesdays" and "Throwback Thursdays." These posts provided followers with interesting facts about a range of topics, along with a touch of nostalgia and Cooperative history, too.
Energy Efficiency Tips
Striving to save our customers money has been part of who we are since being founded back in 1938. It should come as no surprise that we carry that purpose forward into the digital age through GVEC social media platforms.
Outage Alerts
Using GVEC social media to inform members of power outages, repair-time estimates and give notification when power is restored is a no-brainer. That's why following our accounts can help prevent you from feeling figuratively "in the dark" even if your power is temporarily out.
Job Opportunities
We're always looking for qualified candidates to join us in improving the lives of those we serve. Interested in knowing more? Visit GVEC social media!
Local Information
If the last year has shown anything, it's that staying informed of local happenings is important. That's why we strive to help keep GVEC social media followers connected to what's going on throughout South Central Texas.
GVEC in Your Community
Our community relations representatives are continually out and about in the Guadalupe Valley, posting informative photos and video diaries regarding what they're up to. GVEC social media is a great way to stay up-to-date on the ways we're supporting the communities we're part of through more than just products and services.
Electrical Safety Reminders
At GVEC, safety is more than just a concept—it's a lifestyle, something we try to integrate into every aspect of work and play. No GVEC social media account would be complete without safety tips and reminders.
We'd Love to Make Your [Virtual] Acquaintance on GVEC Social Media
We strive to use our social pages not only to relay information, but also to have conversations and build relationships with those we serve. We encourage you to reply to our posts and hit "Like" when we do a good job.